Titanfall for Xbox One and Windows PCs Getting Key Updates on July 31st
Titanfall players can expect a ton of core system updates, the Frontier's Edge Map Pack and more when Titanfall Update 5 for arrives for the Xbox One and Windows PC versions of the game on July 31st.
Respawn Entertainment, which has provided new maps and updates since the game's release back in March, talked more about the coming updates in a series of posts yesterday and today.
Of all the coming changes to the game, the new market system coming in Update 5 is going to be what draws the most attention from Titanfall players. Respawn is introducing an in-game marketplace for users to purchase add-ons for their characters. Dubbed the Black Market. Users will be able to purchase Burn Card packs for their characters through this new marketplace. For example, if a user needed a more powerful weapon for a mission they were planning to take part in later on, they'd just use whatever credits they've earned to purchase a pack of Burn Cards from the Black Market.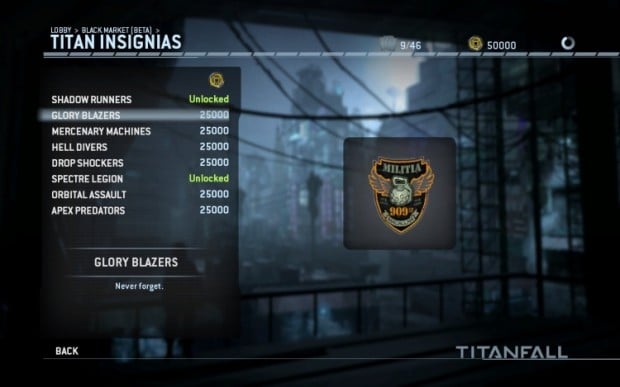 Additionally, users will be able to purchase insignias to put on their Titan too, adding more customization options for a title that sorely needs them.  The nature of Burn Cards haven't changed. They'll still give you new tactical abilities, like the ability to run faster or stay semi-invisible longer. Burn Cards purchased from the Black Market will still only be good for one use in-game too.
Users will be able to sell Burn Cards they earn through the Black Market too. Players will earn credits to purchase insignias and other things from the Black Market by doing all of the same things they were already doing. Respawn says that includes winning matches, finishing matches, completing challenges and reaching level 50. When a player reaches level 50 all the experience points they earn will automatically convert into credits they can use in the store.
Titanfall players worried about users being able to turn real money into credits shouldn't be. Respawn has promised that users will never be able to purchase burn cards and weapons with real money. That's great because doing might turn the Black Market into one giant pay to win scheme. Really, the Black Market is about giving longtime players more reasons to keep coming back. It's also bait for users who aren't as skilled to keep trying anyway.
Respawn announced the Titanfall: Expedition Map Pack a few weeks ago. To be clear, it's not included in the update. Users who haven't purchased a Titanfall Season Pass will need to pay $9.99 for it when it debuts on July 31st. That being said, we now know a bit more about what users can expect from the DLC content.
A new video shows all three of the new maps included in the Expedition Map Pack in all their glory. Beyond revealing what the three new maps look like, the video also provides some brief looks at how the landmarks in these new areas will effect gameplay. Expedition is the second in a three-part series of updates. Users who purchase a Season Pass for $24.99 get all three map packs — $5 below what it would cost to buy each map pack separately.
Historically, new Titanfall updates have always been made available to those who purchased the game for Microsoft's Xbox 360 console too. Unfortunately, they've always come well behind the Xbox One and PC versions of the game. That appears to be the case with the Expedition DLC and Update 5.
We still don't know when Update 5 or the Expedition Map Pack will be available to Xbox 360 users. Xbox One owners can purchase Titanfall directly from the Xbox Games Store for $59.99. A used copy of the game sells for around $54.99 at game retailers like GameStop.