Titanfall Patch Arrives To Fix Multiplayer Issues
Respawn Entertainment, the developer responsible for creating Titanfall for Microsoft's Xbox One and PCs running Windows, has confirmed that Titanfall release day buyers can expect a patch to address a few issues users experienced since it launched.
Respawn confirmed the patch just moments ago in a post to their Facebook page. Apparently users who played the game last night might have run into some issues when trying to get into private lobbies, which are really multiplayer setup screens for users who only want to play with their friends.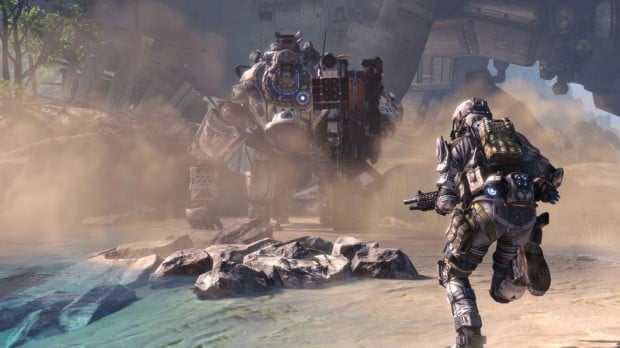 That the studio was able to turn around a patch for the issue so quickly is astonishing on its own. However, that speed is simply a testament to how key Titanfall is to the future of its developer and Microsoft's Xbox One and Windows platforms in general.
Titanfall is the first game for Respawn Entertainment. The studio was formed from staff members who left the Call of Duty franchise to try something new. The game is one of the few titles that simply doesn't have much of a campaign. Instead, Respawn focused on creating decent multiplayer instead. Because there's no campaign there's nothing for users to do without an internet connection. As such, servers going down or being unresponsive would be a nightmare for users who purchased the game at a launch event last night or from the Xbox Games Store digitally.
The game is important to Microsoft because it's the first high-profile exclusive to launch on the Xbox One since its debut late last year. The company seems to be counting on the launch of Titanfall to anchor the console's first full year on store shelves. Other games first-person shooters with multiplayer will arrive later in the year, however they'll also be available on the Xbox 360 and consoles made by Sony like the PS4. All of Titanfall's  online play is handled by Microsoft's Azure platform too.
Read: 3 Tips for Xbox One Titanfall Players
Titanfall is a first-person shooter. It also borrows very heavily from other genres. Players are thrown into a war zone with a set of weapons they're able to customize as they gain more experience and the ability to call on a giant robot to help them achieve their objective.
Xbox One and PC owners can pick up the game right now for $60. The Xbox 360 version of the game has been delayed until March 25th.