Titanfall Update 8 is Huge & Free
Titanfall for the Xbox One and Xbox 360 made their debut earlier this year, but chances are more users are going to be playing them this holiday season than anyone expected. Earlier today Titanfall developer Respawn Entertainment revealed Update 8, the biggest update to Titanfall for the Xbox 360 and Xbox One we've seen yet.
Respawn Entertainment Update 8 talked about Titanfall in a post on the game's blog earlier today after teasing looming changes late yesterday. Everything from in-game rewards to co-operative multiplayer is getting an upgrade in Titanfall Update 8.
A new game mode called Frontier Defense will allow Titanfall players to team up in sets of three. The teams of three will be tasked with defending themselves against waves of enemies. More skilled enemies will appear the longer players survive. Xbox 360 owners who played through Horde Mode in Gears of War games or Firefight in Halo 3: ODST and Halo: Reach should already find Frontier Defense pretty similar.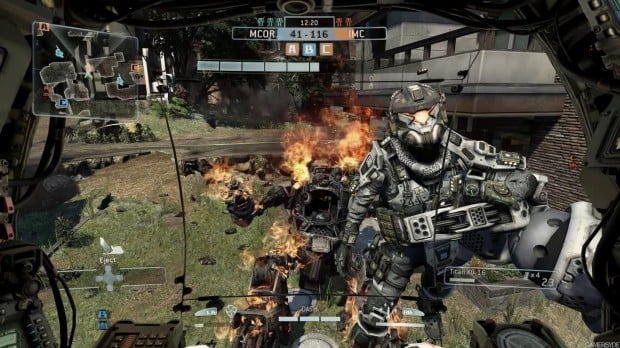 The line up of enemies users have to take down is getting an upgraded too. The IMC is getting cloaked drones, spectre robots that can snipe as well as take enemies head on, giant Titan robots that can go nuclear if they're destroyed and other Titan robots with enhanced protection for melee assaults.
To fight these enemies, Respawn is providing users new weapons themselves. Turrets can now be strategically placed on the battlefield and loadout crates will let users refill ammo and more in some places.
Titanfall has always been more about strategy than about killing as many people as possible. Sure you can just run around random targeting anyone you find, but doing so doesn't actually ensure victory. After Titanfall Update 8 those who die will be respawned inside drop ships. This will give them an opportunity to take down as many users on the ground as they can. The change adds even more opportunities for players to get picked off if they're distracted.
17 new achievements, harder Marked for Death matches are coming after the update. Joining this mode will be Deadly Ground. Users will be able to play Hardpoint, Capture The Flag and Marked for Death missions but need to make sure that they stay high and running on walls. Levels in this mode are covered by a deadly electric fog.
The Black Market store that a previous update introduced will now carry new voices for the operating system that runs each Titan. New insignias for Titans are included too. Finally, private matches – those matches played between friends who already know each other and exclude extra people – will now let users earn Burn Cards. Burn Cards are essential offensive or defensive power ups that can only be used once.
Pressing the right D-Pad on the Xbox One or Xbox 360 controller now lets users see a map of the entire level. This map is full screen.
That Respawn is moving so aggressively to keep Titanfall's online community active is very important. In fact, it's more important that Titanfall keep attracting users than what most might already assume. Titanfall is an aggressively modern game in the sense that it doesn't even bother with a story at all. Instead of wasting resources on a story that users were going to abandon for multiplayer, Respawn thought it'd be better to invest in a robust multiplayer. That's worked out for the most part, Titanfall is pretty fun to play whether you're an experienced online first-person shooter player or not. Of course, it's a double edged sword. Should the quality of the game's online community decrease in any way sales of the game could drop seriously.
Just as with prior updates and add-on content, PC and Xbox One users can expect the update before Xbox 360 users. It'll start rolling out tomorrow for PC and the Xbox One. There's no telling when Xbox 360 users will get the update.