TomTom Sport Watches Pack GPS to Take on Nike FuelBand
Today TomTom announced two new sport watches to help athletes track their running, biking and swimming.
The new TomTom Runner and TomTom Multi-Sport can help users track their exercises using the motion sensors as well as GPS location. Both watches feature large scratch-proof displays that are both weather- and waterproof with simple one-button controls similar to the controls on the entry-level Kindle.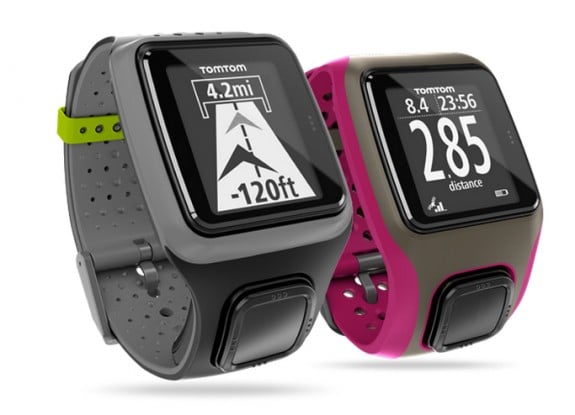 Both TomTom Sport Watches are just 11.5mm thin, making them thicker than some smartphones, but still thin enough to fit on a wristband.
The watches include a number of built-in sensors the watches so runner can keep track of their work out on a treadmill or other gym equipment. Because the new watches come from TomTom, they also include a feature called "QuickGPSFix" which can track location and distance of workouts using GPS.
While the TomTom Runner focuses mostly on running outdoors and indoors, the TomTom Multi-Sport also helps users track their workouts on a bike and in the pool. The TomTom Multi-Sport has more sensors that can track cadence, speed and distance both indoors and outdoors for cyclists. The watch can even track altitude using its built-in altimeter.
The TomTom Multi-Sport also has a swimming motion senor that lets swimmers track their laps, strokes, time and speed.
https://youtu.be/idpMB-vZMfo
Both the TomTom Runner and TomTom Multi-Sport can sync to TomTom's own MySports website as well as other services such as MapMyFitness, RunKeeper and TrainingPeaks. The devices can currently only sync to a desktop, but with Bluetooth SMART support they can sync to iOS devices when iOS 7 ships later this year.
TomTom's watches are more specialized that other fitness trackers like the Nike FuelBand or FitBit, but they can give athletes some more detailed data about their workouts. They're less for everyday activity, and more for use during a workout only.
The TomTom Runner is available now for $169.99, and the TomTom Multi-Sport will go on sale sometime later this month for $199.99.