Took the Sprint MiFi for a Walk….
After lunch today I went for a walk to run some errands and get a little exercise in. I'm extremely busy with a couple of projects right now and didn't have time to go offline even for a minute.   I grabbed a tablet, my new MiFi, and a my Canon Powershot SD750 that I keep loaded with an Eye-Fi card to document how I could keep working while on the move.
I was going to pass on buying a MiFi, but I gave in to my geek lust for it. I usually use a Compass 597 USB modem and Cradlepoint router on the go, but that package isn't nearly as pocketable as the MiFi.
The 2730p that HP sent over as a long-term evaluation unit has a high-brightness outdoor display. It's sunny here in San Francisco and I had no problems reading articles, catching up on email and inking some notes while walking. Having the display cranked up to full brightness shortens battery life, but it's a welcome trade-off.
I live a few blocks away from 24th St., our "main street".   It has a small-town feel despite being about three miles from the Financial District. Noe Valley is a family neighborhood and is where I grew up. Speaking of family, my family is pretty tight-nit and we have 10 households in Noe Valley. I bumped into one of my younger cousins during my walk.
Fortunately, my family has been in the neighborhood for about 50 years and picked up some buildings way back when most of the moms stayed home with the kids and most of the dads worked in the trades. Now it seems like just about everyone works, with a large percentage of the area's residents working in high tech. Google even sends a luxury bus every morning to pick up the company's employees for their commute to Mountain View.
The professional makeup of the neighborhood sure has changed since I was a kid and pushed up real estate prices. Unfortunately, it's going be a long time before I buy a house of my own around here. This 1,200 square-foot, 3br house advertized by a neighborhood realtor has an asking price of $1,795,000 :-(. A fixer-upper just sold down the block for $899,999.
The closest gadget store to my home is Radio Shack. It's a pretty small location and they don't have the widest selection of gadgets, but the store's helped me countless times when I'm in a pinch. My MiFi came with a charger, but it didn't come with a USB cable so I could charge it using a USB port. I picked up an iGo tip that fits the MiFi and an iGo USB adapter. This Radio Shack's staff are always helpful and this guy actually remembers what you've purchased in the past. When I asked him for a micro-USB cord and a car charger to go with it, he instantly recommended the iGo solution since he recalled that I bought an iGo kit two years ago.
One thing I like about the MiFi is that it has a brushed silver finish that matches the 2730p almost perfectly. The Radio Shack guys thought the MiFi was pretty cool .


This   chocolate shop makes custom tins. They have hundreds of San Francisco street signs ready to go or you can bring in your own photo and they'll print it on the lid of a chocolate tin.
The florist by Radio Shack always seems to have new bouquet designs every time I walk by. Here are the flowers I didn't buy my wife…I took these pictures in this post on my Canon and the Eye-Fi Explore Card automatically geo-tagged them and uploaded them to Fllickr.


I was long-overdue for a haircut, so I stopped by Hot Headz for a trim. I tried to record a shortcut, but it was too noisy to record using the built-in mic. I did manage to grab some stills from the webcam video, which are shown below. While I was getting my hair cut I edited a couple of documents and started writing this blog post.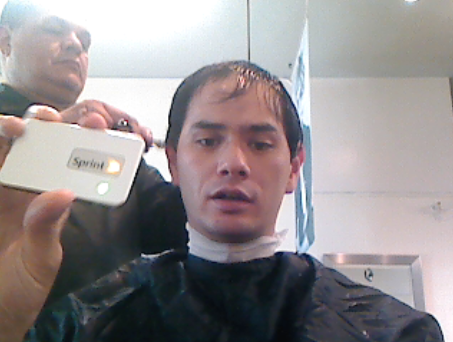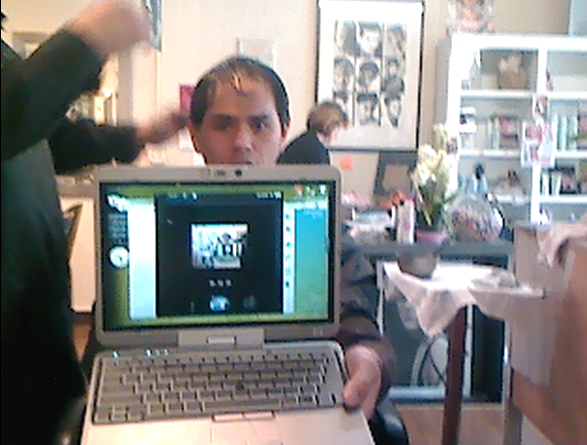 On the way home I stopped by our neighborhood library which recently underwent a renovation. I haven't been in there for years, but spent a lot of time there growing up. Everyone there was on a notebook computer, except for the kids in the children's reading room.



You can use this touchscreen computer and scanning system to checkout books and movies.

I'm really enjoying the MiFi so far and find it increadibly convenient compared to my USB modem, which sticks out about 2.5-inches. The only thing I didn't like was that the MiFi was too hot and I had to put my keys between it and my leg to reduce the discomfort. I wish Sprint had thrown a USB adapter in the package so I didn't have to buy my own in the box.