Top 10 iPhone 6s Settings to Change
When you get your new iPhone 6s or iPhone 6s Plus out of the box there are many iPhone 6s settings to change for a better iPhone experience.
These are the first iPhone 6s settings we change and they are the ones we recommend other users change or explore to get the most out of their new iPhone. They also remove many iPhone annoyances that can frustrate you, or the users around you.
In the case of the iPhone 6s and iPhone 6s Plus, there are some iPhone 6s settings that you must change to enable features. This will help you make the most of your iPhone with iOS 9, iOS 9.1 or iOS 9.2.
It is important that you explore your iPhone 6s settings to customize the experience to your needs. There are also additional privacy settings that you can change if you want to control the information you share, but for this guide we'll mainly focus on how you can improve your experience with the iPhone 6s.
Turn Off Double Notifications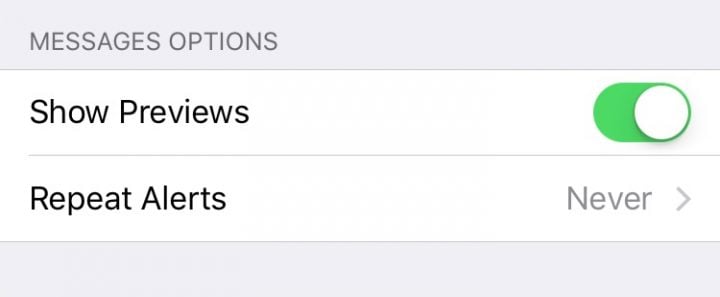 When you get a text message or iMessage does your iPhone 6s vibrate a second time before you can read it? If so, you likely find this very annoying. Here's how to turn off the Messages double notifications.
Go to Settings -> Notifications -> Messages -> Repeat Alerts – Never.
Turn on 4K Video
The iPhone 6s supports 4K video, but you need to turn it on. This takes up almost 400MB per minute, so you may not want it on all the time, but the results can be fantastic.
Go to Settings -> Photos & Camera -> Record Video -> 4K 30 fps.
Change 3D Touch Settings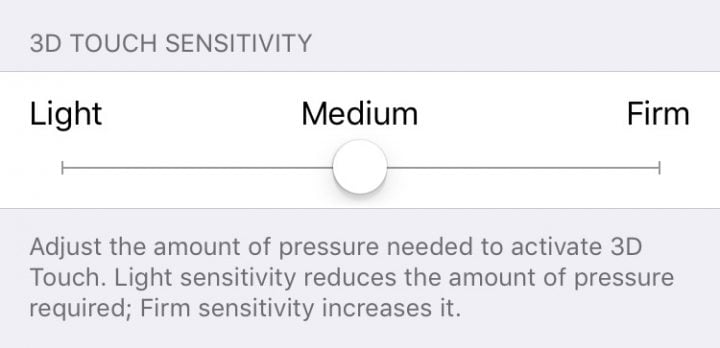 If you have trouble activating the 3D Touch features on your iPhone 6s or iPhone 6s Plus, you may need to adjust the sensitivity.
Go to Settings -> General -> Accessibility -> 3D Touch -> 3D Touch Sensitivity.
This will let you make the touch lighter or firmer depending on your needs, and you can test it out on this page.
[contextly_sidebar id="RPuBQVVEEqiqu0tL7SiTe6vSu4lWoRHj"]
Set a Live Photo as Your Lock Screen
You can take a live photo with your iPhone 6s camera that will capture not just a single frame, but also the motion before and after. Once you capture it, you can use it as your lock screen.
Go to Settings -> Wallpaper -> Choose a New Wallpaper -> All Photos -> tap on a live photo. You can also tap on the Live gallery to use the stock Apple live lock screens.
On your lock screen you can press and hold to see the live photo move.
Turn Selfie Flash On

The new Selfie Flash quickly flashes the screen at the right color tone and the right brightness so that you can take a better selfie in lowlight.
When you are using the front-facing camera, tap on the flash icon and choose always to force it to flash, or leave it on Auto to get it only when needed.
Finish Touch ID Setup
The iPhone 6s and iPhone 6s Plus Touch ID sensor is super fast, and you will benefit from using it with more than the one finger that the iPhone asks you to set up during the iPhone 6s setup.
Go to Settings -> Touch ID & Passcode -> Enter your passcode -> Add a Fingerprint.
Follow the guide to train the rest of your fingerprints on the iPhone 6s and then you will be able to unlock it with more than just your thumb or index finger.
Disable Keyboard Click Noises
Unless you really like to annoy people who are near you, turn off the keyboard noises on the iPhone 6s. This is on by default and it makes a click whenever you tap on a key, which can frustrate people near you.
Go to Settings -> Sounds -> Keyboard Clicks -> Off.
Alternately, you can put your iPhone in silent mode which will mute them when you are in public.
Turn on Voice Over LTE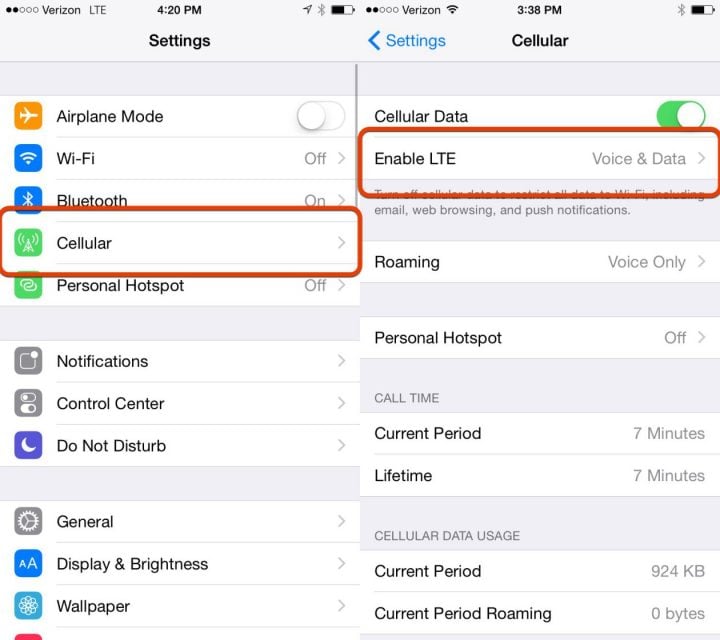 If you upgraded from the iPhone 5s or older, you need to turn on one of the best features Apple added in the last year. Voice over LTE is a feature that has been on AT&T for a while, but just came to Verizon last year. With Voice over LTE you can use your data while you are talking on the iPhone.
Go to Settings -> Cellular -> Enable LTE -> Voice & Data.
It may take a minute to turn on, but once it is on you will be able to get iMessages, browse the web and use web connected apps while you are talking.
Customize the Notification Center
The iPhone 6s and iOS 9 add in new options that allow you to see information in the Notification Center of the iPhone.
One thing you will see once you connect an Apple Watch or Bluetooth devices that report battery life is a new Batteries widget. If you don't like this, or if you want to change other Notification Center Widgets, use this guide.
Pull down the Notification Center -> Swipe down to the bottom -> Tap on Edit. Tap the "-" to remove a widget, use the bars to move it and tap "+" to add another one.
Setup iPhone 6s Hotspot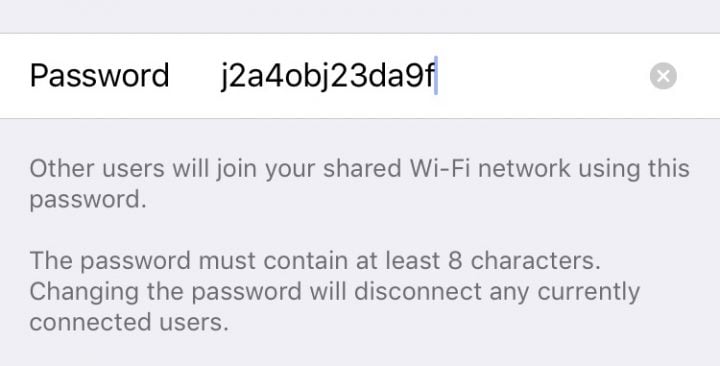 The iPhone 6s personal hotspot can share your iPhone's internet connection with other devices like your laptop, iPad or Nintendo DS.
Most of the new iPhone plans at major carriers include this in the price you already pay, so you will not need to contact them to use it or pay any more.
Go to Settings -> Personal Hotspot -> Wi-Fi Password -> Enter a new password. You can then tap On to turn it on.
Find it like you would any other WiFi network on your laptop or iPad. You should always change the password to something secure, instead of leaving it to the default.
Best iPhone 6s Cases, Covers & Skins
Speck CandyShell Clear iPhone 6s Case
The Speck CandyShell Clear is the first clear iPhone 6s case from Speck, and the first clear case from the company overall. This form-fitting, minimalist iPhone 6s case delivers a decent amount of protection with a military drop test 810G rating.
Speck assures us that the clear case will not yellow with use like many cheap clear case options. The clear finish is perfect for showing off your iPhone 6s color choice while protecting it.
Buttons move perfectly and are easy to find by touch and there is a raised front bezel to keep the iPhone 6s display off hard surfaces.
$34.95 at Speck