Top 10 LG G4 Settings to Change
The new LG G4 has plenty to offer with its big and bright 5.5-inch screen and super impressive camera, but there are lots of settings you'll want to change as soon as it's removed from the box. Owners that just received the new phone should check out all the options and controls in settings, but those that don't know what to do for the best experience will want to read on. We'll show you the right G4 settings to change to customize your LG G4 and enjoy it more.
LG chooses to enable and disable certain settings that the company thinks will deliver the best experience. Some of these settings are a personal preference, but everyone has different wants, needs, or preferences, so you don't need follow this guide exactly, but it will give you a good idea of how to make the device personal to you.
Read: 6 Exciting LG G4 Cases
These are some settings you can change right away to improve the experience, get better battery life, and just enjoy the phone to its fullest. Adding additional security, enabling battery saver mode, increasing the font and more are all just a few of many settings one can change. Read on for more details.
The LG G4 was announced back at the end of May and has plenty of features that will entice buyers. From an impressive 16 megapixel camera, dual screen mode to run two apps simultaneously, and much much more. Here we'll show you how to secure the LG G4, but use a new feature so you only need to enter a password or screen security when you're not home, where security is truly important. We'll change the software, how some things look and function, and more.
There are so many different options, controls, customizations from LG and more that could make this list, so we limited it to just a handful so average users will be able to easily make the changes and enjoy the phone, without feeling overwhelmed with options.
Flashlight & Quick Settings
One of the best aspects of Android 5.1 Lollipop is the quick settings controls and tools at the top of the notification pulldown bar. When you slide down on the LG G4 the quick settings at the top are useful, but many are LG's apps and not things a user will actually use.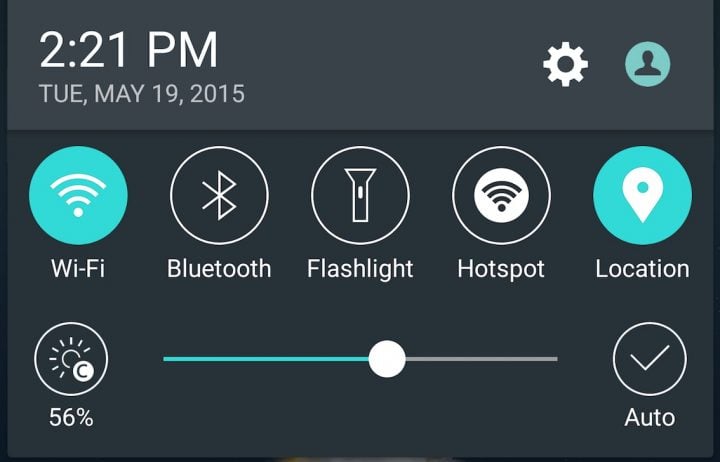 Where you see WiFi and other quick setting circles, scroll from left to right (yes there's more than just five available) and scroll to the end and select "edit". From here you can move any and all quick settings to the main five. I have WiFi, Bluetooth, Flashlight, Mobile Hotspot, and location controls. This is all customizable, and one of the first things I did on the LG G4. I use the flashlight on a daily basis, so love having it in an easy to access location.
Go in and select what's right for you and what you want as your main options. Then remember you can scroll through this list and easily turn on different things or access settings without having to fumble through the entire settings list.
Better Security
An option that's been available on Android smartphones for years that many users don't employ, is a passcode or pattern on the lockscreen. With smartphones having so much information, banking accounts, and email access these days, security is extremely important and your device needs to be secured.
If you just got the LG G4 and are going through the initial setup, it will let you use their version called KnockCODE. Which lets you tap any four areas of the display as a secret, hidden pin. This works quiet well, but the usual pin and pattern security options on Android are also available for those who'd like. It takes about 30 seconds to set up a password or pattern lock, and your device will be protected from prying eyes or in case of loss and theft.
Read: How to Take a Screenshot on the LG G4
The LG G4 offers KnockCODE out of the box during setup, otherwise head into settings and do it yourself. Pull down the notification bar and go to settings > lockscreen > and select screen lock. From here simply choose your method of choice. We use KnockCODE, but many may prefer a simple PIN number.
We recommend users enable at least one layer of security, as you never know where your smartphone could end up if lost or stolen. You wouldn't want precious data or pictures getting into the wrong hands. There's no fingerprint scanner for security like the Galaxy S6, but the options available should suffice.
Smart Lock
With Android 5.1 Google added a new feature called Smart Lock, which basically only enables lockscreen security like your KnockCODE or PIN to be used when you actually need it. There's no need for a PIN code or lockscreen security if you're home, in your car, or somewhere you trust.
Smart Lock disables the lockscreen security if the LG G4 notices the user is home based on location, connected to a Bluetooth device like a smartwatch, speaker, or even a car stereo.
This is extremely useful as you won't have to put in that pincode or password to use the LG G4 at home, but once you leave a trusted area the security is enabled, giving owners peace of mind. Head into settings > Lock screen > Smart lock > and set up trusted places or devices as you see fit. You'll thank us later.
Change the Default LG G4 Text App
There are many great Android text app alternatives that can deliver a better texting experience than the carrier or built in LG G4 messaging app or even Google Hangouts.
Download the app you want to use and open it. This may prompt the G4 to let you set it as default. If not you need to go to the Settings.
Go to Settings > Device > Default message app > Tap on the app you want to use.
That's all you need to do to change the default message app on the LG G4.
Turn Off the LG G4 Notification LED
On the front of the LG G4 there is an RGB LED notification light that will pulse or blink when you miss a call, have a text message waiting to be read, incoming emails and more. This is nice and third party apps will let you make each notification type a different color for absolute control, but many just want to disable it.
If you don't want this bright blinking LED bothering you all the time, or at night, disable it completely. Go into Settings > Sound & notifications > and turn it off as pictured above. Alternatively you can set it to only blink with something important, like a missed call. Just tap the setting and you'll be able to select what apps use the notification LED.
Customize the On-Screen Buttons
LG is one of the few manufacturers that offers a lot of customization to the overall look and feel of the phone. If you want the back button on a different side of the screen, that's an easy thing to change. You can even change the effects look when you swipe through homescreens by going into Settings > Swipe screen effect > and choose something that looks neat. We can also change the on-screen buttons on the bottom of the display.
Head into Settings > Home screen > Home touch buttons > Button combination > and change the buttons on the bottom to any layout you'd like, or even add more at your convenience.
Change the Settings Menu Layout
Lately manufacturers have been changing and breaking the Android settings menu into categories. LG did this with the G4, and some may not like it. If you'd rather just have one long list of settings like most devices you've used in the past, or don't like the categories, we can change this.
Pull down the notification bar and tap the gear-shaped settings button. Once in settings tap the three dots on the top right and change the settings menu from Tab View to List View. This puts all your settings in one area for easier access. I prefer list view, but to each his own.
Backup & Restore
While we won't get into transferring from an old device to your new LG G4, we will explain a few simple steps you'll want to take to keep your new phone backed up and ready to go. Google's backup options will be brought up during setup, which we'd recommend most users agree to, but you can always control more backup & sync options in settings later.
Settings > Backup & reset > Back up my data
Using the same steps as mentioned above you'll want to head into settings and scroll down to backup & reset. Here is where you can turn on/off Google's backup solution. It isn't an all-in-one solution, but will backup (and restore on a new device) your WiFi passwords, app data (and game saves) wallpapers, and other settings. This is extremely convenient. There's also a new LG Backup option that will let you copy data, call reject lists, text messages, images, and even your home screen. An easy way to switch to a new phone if needed.
Users can also check or uncheck the restore option where Google will automatically restore any available settings or data from an app being reinstalled. This will restore your information if you lose your G4 and have to get a new one, or restore any previously backed up data from your prior smartphone to a new device.
Read: How to Backup Android in 5 Easy Steps
Android Device Manager
Google offers a pretty good Device Manager and locator service of its own called the Android Device Manager. This is similar to FindMyiPhone, and works wonders. There's almost no setup once you download the app from the Google Play Store, then just let Android's device manager find your lost phone if you ever need to.
This is essential in case you ever lose your LG G4. You can access the ADM from another Android device, your tablet, or a PC to find a lost or stolen device, then track it down and recover that expensive smartphone. Even without it enabled, while logged into your Gmail account in Chrome just type "Find my Phone" in the Google search bar and it will find it's nearest location. Pretty neat little trick that Google released earlier this year.
The Android Device Manager has other useful features too. You can lock your G4, wipe out a smartphone to erase data in case of theft, or even make your phone ring at max volume if it's lost somewhere in your house, all using the Android Device Manager site from a PC, tablet, or another phone.
This is one of those small steps that many users overlook, but if you ever need it, you'll be glad you took the 2-3 minutes to make sure it was ready to go.
Improve Battery Life
Last but not least, do these few things to get better battery life. One of the biggest impacts to battery life besides the big 5.5-inch display and having too many apps syncing 24/7, is Google location services. Whether your phone is always tracking you location to deliver weather updates, or you use Google Now and Google Maps for directions or navigation, this is a big drain on battery life. In Android 4.4 KitKat Google added a new location option which allows for more control here, and the battery saving option is your best route.
Settings > Location > Mode > Battery Saving
Battery saving mode turns off GPS, so turn by turn navigation may not be as accurate or need to be re-enabled, but for those who rarely use navigation, Battery saving mode is your best bet. This uses WiFi and your cellular network for location services, rather than the phone draining your battery with GPS turned on.
Users can also head into settings > display > and lower the brightness to 40% or so, rather than automatic, which can also improve battery life and extend the phone usage into the next day without a charge. It's another good idea to see how often Facebook, Twitter, Gmail and other apps are syncing data, and if too often, it'll keep waking up your device and lower battery life. The LG G4 has a large 3,000 mAh battery under the hood, a more efficient 6-core processor, and a battery-friendly display, but there are always a few ways to get a couple more hours of usage out of any smartphone.
Final Thoughts
Again every user has different needs or preferences, and everyone will choose what works best for them. Id' also install and setup Google Wallet for mobile payments like Apple Pay using NFC, set mobile data limits in settings > Mobile Data > so you don't go over your monthly carrier plan, disable those loud emergency signal broadcast alerts, and maybe even setup the new Do Not Disturb options so you won't get alerts and notifications while working or sleeping.
The LG G4 has a lot of options, controls, features and customization that makes it one of the best phones around. Dig through the settings menu and change what you want, and enjoy all it has to offer.

This article may contain affiliate links. Click here for more details.