Top 5 iPhone 4S Warranty Options Compared
For iPhone 4S preorder buyers, the iPhone 4S will soon be in your hands. That means enjoyment, but it also means that you might drop your iPhone 4S and break it.
While the iPhone 4S might only cost $199 when you buy it, the actual price is much higher. When you sign a two-year contract, your carrier covers part of the cost because it can make it up  from data plans and other extras. If your iPhone 4S breaks, you'll have to pay full price unless you have some type of coverage.
We've rounded up several iPhone 4S warranty, insurance and protection plans to help you decide how to protect your iPhone 4S. Don't forget to hit up the bottom of the post for an easy comparison chart.
Read: iPhone 4S Case With a 1 Year Warranty Included 
If you don't have some form of protection, you might end up with a broken iPhone that looks like this one, without an affordable fix.
AppleCare+ – $99
The most common form of iPhone 4S protection will be AppleCare. New with the iPhone 4S is a more consumer friendly version of protection called AppleCare+. This protection is $99 for two years, and it covers hardware issues and support.
New with AppleCare+ is coverage for two accidental damage. This means if you drop your iPhone or spill water on it, you can get it replaced for a $49 deductible, but only twice.

This is a nice addition from previous years, but doesn't cover every possible issue you might have with your new iPhone, such as loss, theft or damage in a fire or earthquake.
Also, AppleCare+ needs to be purchased at the same time as your iPhone.
Purchase with MasterCard or American Express – Free
If you have an American Express or MasterCard with the Extended Warranty protection, you can double the Apple warranty, giving you two years of hardware coverage. This is a free benefit of purchasing with your participating card. Many Platinum and gold cards have this as a free benefit, to be sure, call the 1-800 number on the back of your card.
You will need to pay for the full iPhone 4S with your credit card, keep your receipt and a copy of the original warranty. If something goes wrong after your one year Apple warranty is finished, you can call up your credit card and get the ball rolling. You will have the repair done at a place of your choosing, usually an Apple Store, and the company will send you the check. You cannot cancel your credit card if you want to use this.
Also, it is worth noting that this is only free if you pay off your credit card before the next billing cycle.
Carrier Insurance AT&T and Verizon – $6.99-11 a Month
If you purchase your phone through AT&T or Verizon, you can add extended warranty options to your account. These services incur a monthly charge of $9 to 11 bucks, or about $240 over the course of your iPhone 4S ownership.
On AT&T you need to choose the Mobile Protection Pack $9.99 a month, which includes coverage for lost, stolen and damaged devices. In order to get a new device, you need to pay a $199 deductible, and can only make two claims. AT&T also offers a 6.99 insurance plan, but it is not showing up as an option if you preorder the iPhone 4S. If you want to save $3 a month, you'll need to call in and hope for the best.
On Verizon, you can choose between a Total Equipment Coverage or Wireless Phone Protection Plan for $9.18 or $10.99 a month. Verizon lists the deductibles at $169 for a 16GB iPhone 4S and $199 for the 32GB iPhone 4S, but lists no pricing for the 64GB iPhone 4S.
Sprint has chosen not to offer carrier protection.
These plans are very pricey, with a total cost including one replacement at over $440. I would suggest looking for another plan, or just putting some money back in case of a failure.
SquareTrade – $99 for two years
SquareTrade is a popular company for iPhone protection, and right now is offering 2 years of iPhone 4S protection, including drops and spills, for $99.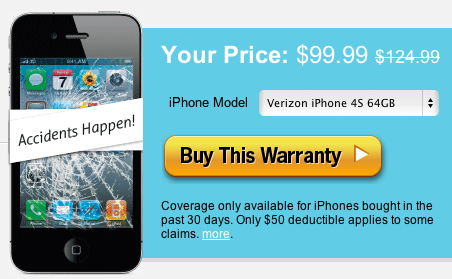 The Squaretrade iPhone 4S plan is available within 30 days of purchasing your iPhone 4S, and also covers manufacturer defects.If you need to use the Spill/Drop protection you must pay a $50 deductible.
If you need to file a claim, you can have your phone sent in to SquareTrade or take it into the Apple store and be reimbursed for the repair costs. There is a 5 day turnaround guarantee, if your phone is gone for longer, you can get your warranty cost refunded.
If your iPhone is older than 30 days when you want your warranty, you can use the SquareTrade iPhone app and pay a higher fee.
Worth Ave. Group – $89 a year
Another option is Worth Ave. Group iPhone 4S insurance. I have covered 5 reasons insurance is better than an extended warranty before, but in short it covers more.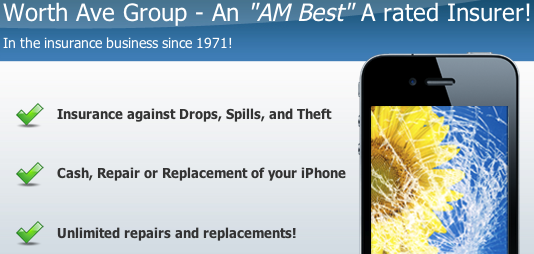 With insurance, you get coverage for loss or theft and all sorts of random disasters large and small – in addition to protection from accidents.
Worth Ave. Group doesn't currently show an iPhone 4S ordering option on their website, but Customer service says coverage is coming.
iPhone 4S Warranty and Protection Options
When it comes to picking the best warranty, you'll need to figure out what you need most. While accidental coverage is easy to come by, protection from loss or theft is more expensive. Here's a handy IPhone 4S warranty protection chart to help you make your decision.
| iPhone 4S Protection Plans | 2 Year Price | Deductible | # of Claims | Accidental? | Loss/Theft | Disaster |
| --- | --- | --- | --- | --- | --- | --- |
| AppleCare+ | $99 | $49 | 2 | Yes | No | No |
| Credit Card | $0 | $0 | 1 per purchase | No | No | No |
| AT&T or Verizon | $168-$260 | $169 to $199 | 2 | Yes | Yes | No |
| SquareTrade | $99 | $50 on Drop Spill | up to $599 coverage | Yes | No | No |
| Worth Ave Group | $174 | $50 | 1 – $600 Coverage | Yes | Yes | Yes |
Best Value
The best value in iPhone 4S protection for most users will be AppleCare+ or SquareTrade. Both of these plans offer low entry price and a low deductible. While there is no loss or theft coverage, it is still a great value.
The worst value is buying through Verizon or AT&T. By the time you factor in 24 monthly payments and one deductible, you're only $200 off the off contract price of an iPhone 4S. If you have to choose between carrier coverage and no coverage, I'd put some money in savings and take my chances.
Do you purchase iPhone insurance or an extended warranty? Which option is your favorite?