Top 5 iPhone 5s Insurance & Warranty Options Compared
When you buy the iPhone 5s Apple will ask if you want to buy AppleCare+ an extended iPhone 5s warranty and your carrier will try to sell iPhone 5s insurance to cover a lost or stolen iPhone.
While it is a good idea to buy some type of iPhone 5s insurance or an extended iPhone 5s warranty it is a good idea to compare prices, benefits, features and the fine print before buying one.
Even though the iPhone 5s may not look very expensive at $199 on contract, if it breaks or is stolen in the middle of the contract the price to replace it is significantly higher at your carrier. The $199 iPhone 5s will cost $649 to replace at a carrier, and the higher capacity models are as expensive as $849 when purchased off contract.
The price difference comes from carrier subsidies, which knock $50 off the price of the phone, an amount carriers make back from your monthly payments for data and service.
With the high price of an iPhone 5s, many users should at least consider buying iPhone 5s insurance or an iPhone 5s warranty that covers water damage.
In a survey of nearly 5,000 iPhone 5 buyers last year, AppleCare+, SquareTrade and Protect Your Bubble were the top iPhone 5s insurance and warranty options Gotta Be Mobile readers purchased.
If you have a broken iPhone 5s and you didn't buy insurance or a warranty, you can usually buy an out of warranty replacement at an Apple Store. The iPhone 5 out of warranty replacement price is $229 right now, but it is not clear what Apple will charge for an out of warranty iPhone 5s replacement.
iPhone 5s Insurance vs. iPhone 5s Warranty
The iPhone 5s comes with a one year Apple warranty that covers defects like bad battery life, the power or home button going bad and other issues, but it does not help with iPhone theft, iPhone loss or damage from drops or water. For this you will need insurance or a warranty that covers accidental damage
Some of these options require you to buy the insurance or warranty when you purchase the phone, while others offer options to buy a warranty or add insurance later on. So it's a good idea to know what you want before you go to the store to buy a new iPhone.
iPhone 5s Insurance Explained
iPhone 5s insurance options typically cost more than an iPhone 5s warranty because it covers more. Just like car insurance, these options charge an up front fee and then a deductible when you make a claim. Like car insurance the iPhone 5s insurance options listed on this page include coverage for a lost or stolen iPhone in addition to one damaged by water or a drop.
iPhone 5s Warranties Explained
The iPhone 5s warranty options include coverage for a broken iPhone in several ways. First, they extend the initial Apple warranty an additional year, which means coverage for a power button that breaks or similar issues. Second, the iPhone warranty options add coverage for accidental damage including drops or water damage. Basically, if you break your new iPhone 5s this will pay to have it fixed, but you will need to be able to send it in to use the warranty.
An iPhone 5s warranty does not cover loss or theft, this also means if you drop the iPhone 5s in a lake and cannot recover it you can't file a claim for water damage.
Which Should I Buy?
Choosing between an iPhone 5s insurance offer and an iPhone 5s warranty is a personal choice, but it boils down to how likely you think it would be that you will not physically have your iPhone after it breaks.
If you hunt, fish, hike and boat with your iPhone 5s and are worried that it could fall somewhere you can't recover it, or if iPhone theft is a big problem in your area a warranty could be the best deal.
If you are mainly worried about dropping your iPhone 5s into water or breaking the screen, then an iPhone 5s warranty could be a better deal.
iPhone 5s Insurance & Warranty Options
AppleCare+ – $99
AppleCare+ is a warranty from Apple that extends the warranty for the iPhone 5s battery, USB cable, headphones, buttons and more and combines it with two years of phone support and two accidental damage claims.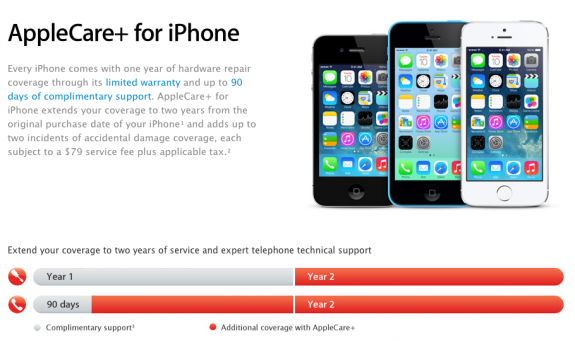 AppleCare+ is one of the most popular iPhone 5s warranty options because it is available direct from Apple and all support is routed through an Apple Store or through Apple's phone support team.
If you purchase AppleCare+ for the iPhone 5s you can take a water damage or busted screen iPhone 5s into an Apple Store and get a new one for the $79 service fee.
You must buy AppleCare+ within 30 days of buying the iPhone 5s and it will need to be inspected at an Apple Store or you will need to run a diagnostic on it while buying on the phone from Apple.
AppleCare+ will not cover a lost or stolen iPhone.
SquareTrade – $129
SquareTrade is another popular iPhone 5s warranty option thanks to attractive pricing and multiple options for an iPhone 5s repair or replacement.
SquareTrade is similar to AppleCare+ but the service fee for replacing an iPhone is $50 instead of $79. Users can even extend the plan out to three years and it is transferable.
The SquareTrade iPhone 5s plan includes up to 4 repairs or replacements and thanks to a nice reimbursement option users can take a broken iPhone 5s into an Apple Store Genius Bar for a repair and have SquareTrade pay them back for the cost within a day.
Users can also file a claim online and have a new iPhone sent to their address, similar to AppleCare+. Like other iPhone 5s warranties this does not help with loss or theft.
The SquareTrade iPhone 5s warranty must be purchased with in 30 days to qualify for this pricing, but users can buy a SquareTrade iPhone warranty for an older iPhone with the SquareTrade app for $7.99 a month.
Credit Card – Free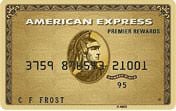 If you mainly want some added protection from an iPhone 5s power button or Touch ID sensor failing, and don't need water damage or cracked screen protection, buying the iPhone 5s on a credit card should be enough.
MasterCard and American Express often include an Extended Warranty Protection which doubles the manufacturer warranty on your gadgets. This is a free service that requires you still have an open line of credit and the receipt, but that's pretty much it.
Call the 1-800 number on the back of your credit card to find out if purchases qualify for an extended warranty and what you need to do to enroll and or collect down the line.
If the iPhone 5 breaks out of Apple's one-year iPhone warranty you call the Extended Warranty department and start the process. Then you will go to an Apple Store or qualified repair center to get the iPhone 5s repaired and then get reimbursed by the credit card company for the repairs.
Once again this does not cover loss or theft.
Carrier Insurance – Up to $9.99 a month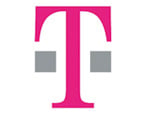 All of the iPhone carriers also offer iPhone 5s insurance at the time of purchase for $7 top $10 a month plus a deductible.
Carriers offer iPhone 5s insurance which means the service covers loss, theft and damage. Each carrier charges a different amount and a different deductible. Some of the new early upgrade plans like T-Mobile Jump include insurance in the monthly payment.
AT&T – $6.99 a month
Verizon – $9.99 a month
Sprint – $11.00 a month
T-Mobile – $11.99 a month
Each carrier will charge a deductible when getting a replacement which can hit $199 per claim. Most plans only allow two claims before the user is cut off.
These plans are more expensive, but they cover pretty much anything that can happen to the iPhone 5s.
Protect Your Bubble
iPhone 5s insurance options are tough to find outside of carriers, but Protect your Bubble offers an option that users should definitely check out.
Protect Your Bubble sells iPhone 5s insurance for $143.99 for two years or $7.99 a month. This includes 2 claims per 12 months and covers drops, mechanical failures, water damage, loss and theft. Pretty much anything that could happen to your iPhone is covered.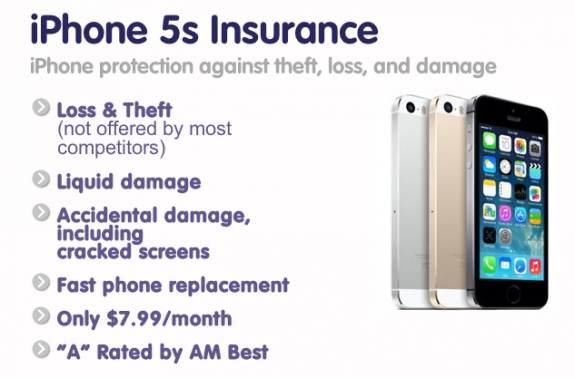 The Protect Your Bubble site does not list the iPhone 5s, but it should be available soon. Users who are insuring multiple gadgets can receive a 10% discount on the next item.
Below we offer an iPhone 5s insurance and warranty comparison chart that covers the number of claims, prices and what is covered by each warranty and insurance option.
| iPhone 5s Insurance & Warranty | 2 Year Price | Deductible | # of Claims | Accidental? | Loss/Theft |
| --- | --- | --- | --- | --- | --- |
| AppleCare+ | $99 | $79 | 2 | Yes | No |
| SquareTrade | $129 | $50 on Drop Spill | up 4 claims | Yes | No |
| Credit Card | $0 | $0 | 1 per purchase | No | No |
| AT&T or Verizon | $168-$287 | Up to $199 | 2 per 12 months | Yes | Yes |
| Protect Your Bubble | $143 | $120 | 2 per 12 months | Yes | Yes |
Best Value for iPhone 5s Protection
If you want iPhone 5s warranty options, look for AppleCare+ and SquareTrade. Both offer reliable service and the convenience of in store or by mail replacements and repairs at a reasonable price. For users that need to cover loss or theft, Protect Your Bubble remains a top choice thanks to the price and customer service.
The credit card option is nice, but won't cover a whole lot other than a button breaking or battery going bad. Carrier iPhone 5s insurance options remain expensive.
[poll id="38″]