Top 5 iPhone and iPad Apps for Enjoying Summer
After another cold winter, the weather is finally starting to get warmer and summer time is getting close. It's never a bad idea to start planning on what events are going to occur and how much weight your going to gain from learning how to properly cook a steak. With these applications, turn your iPhone or iPad into a device made for your summer vacation, giving you the help of finding everything from movie times to conquering the great outdoors.

You must be excited that summer is here and dying to get outside go to on a hike, but maybe don't know where to find one? TrailBehind connects the adventures of millions of people. The map details parks and forests in every part of the world, linking reports and information around the web. Whether your going on a date with a new spouse or want to get some exercise in the great outdoors, this app will help you find what you are looking for.
We all look forward to the hot weather that comes with summer, but some days you want to spend the hot afternoon in a nice cool movie theater. With Showtimes, can find the closest theater, movies and times without getting out of your hammock. Need to order a ticket online as well? Now Playing has you covered.  Free on the Apple Marketplace, download Showtimes to assure your seat at the theaters and never worry about going to a sold out show again.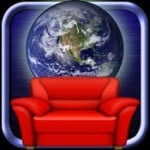 Truth is, we all want to travel the world at some point and see all landmarks we have dreamed of one day seeing. Want to see everything around the world just by sitting on your couch? With Couch Traveler, you can simply type in a certain place of interest, and in a flash your there. Use the features of zoom to get up close on your current destination, and type in questions on the landmarks and learn more about your favorite destinations. Not only can this app be used as a fun tool, but it can also be used to learn and study. With flash cards and multiple-choice questions, you can learn everything you want to know about it, and hopefully visit the place with all knowledge of what has happened in the past.
Over the course of summer, people tend to travel from place to place, all with special activities in mind. And since it is now summer time, the weather is very important for whichever activities you choose. With the Weather Channel app, free on the Apple Market place, you can get current weather reports, live maps and forecasts, and also has interactive radars through Google Maps which makes it easy to pan around. Going to the beach for a day with friends? Post the application report on Facebook and give your friends the forecast they need to pack right.
Since summer time is all about enjoying the outdoors, its time to enjoy eating outdoors. Clean up your grilling skills with Weber's on the Grill app, giving you hundreds of grilling recipes along with the grocery list that comes with it. This app not only gives you recipes, but tips and tricks on a grill, letting you share with friends through quick e-mail access. This app is not only shown with words either, click on one of the hundreds of grilling videos see exactly how grilling is done right, Weber is ready to make you an amazing summer chef.

As an Amazon Associate I earn from qualifying purchases.