Top 5 Phones to Consider Before Buying the iPhone 4s [August, 2014]
The iPhone 4s is still available through the Apple Store and is still a decent choice for those looking to get into Apple's ecosystem without paying top dollar. However, before buying the iPhone 4s this month, there are some devices that we think you need to consider.
It's been almost three years since Apple took the stage and announced the iPhone 4's successor, a device known as the iPhone 4s. And while the iPhone 4s is getting much older, it's still an option for consumers. For one, it's still sold through the Apple Store, for free, on-contract. And with an iOS 8 update in the cards for later this year, the iPhone 4s could actually improve, three years after its release.
Still, the iPhone 4s is a hard device to recommend. Its processor is outdated, its Retina Display is tiny, and its camera was surpassed long ago by the iPhone 5 and iPhone 5s. That said, we understand there are those of you that are considering it because of its price tag.
If we're not able to stop you then maybe we can get you to take a look at some of the top competitors for the iPhone 4s.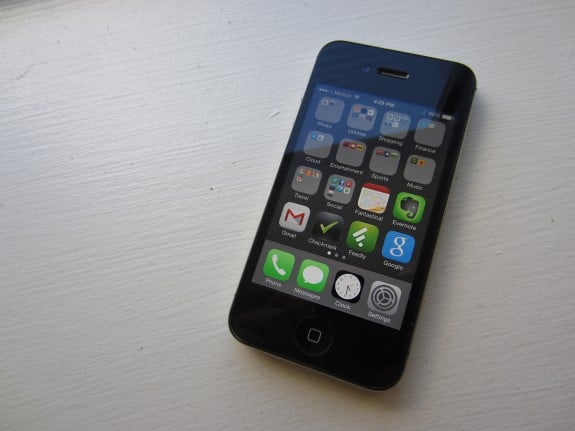 We are constantly bombarded with questions about which phones to buy. In particular, we're constantly asked about the phones consumers should weigh against the iPhone 4s before buying it. There are a number of different devices that we could recommend, the smartphone market is full of solid choices, but we want to narrow things down a bit and take a look at what we consider to be the top five.
These phones represent the devices that we'd recommend to friends and family. And while our list may differ from yours, these are the devices that Gotta Be Mobile editors have selected for recognition this month. We feel like the devices listed here deliver the best, all-around package for this month and this month alone.
That said, here are the top five smartphones to consider before buying the iPhone 4s in August.
iPhone 5c
The iPhone 5c doesn't get a lot of attention but it's still a solid mid-range device that is worthy of consideration thanks to its feature set. For $99 on-contract, buyers will get a device that sports a 4-inch Retina Display, comes with faster processor, a better camera, and a device that should, like the iPhone 5s, get three major iOS updates in the future.
The iPhone 5c also utilizes 4G LTE data, something the iPhone 4s doesn't do. The iPhone 4s is stuck on "4G" HSPA and 3G, both of which are much slower than LTE. So if you want fast web browsing, the iPhone 5c is probably worth a look.
While its design isn't as premium as the iPhone 5s', it does come with a ton of color options, something that the iPhone 5s and iPhone 4s do not offer to consumers. Take a look at the iPhone 5c if you're trying to get an iPhone on a budget, which you clearly are if you're into the iPhone 4s.