Top 5 Tablets to Consider Before Buying the iPad mini with Retina [July, 2014]
Rumors suggest that the iPad mini with Retina Display will be replaced by a new iPad mini 3 later this year. Until that day arrives, the iPad mini with Retina Display will remain one of Apple's best mobile products and a device worthy of consideration. That said, there are some competitors that we think prospective buyers need to check out before taking the plunge with Apple's current tablet.
At the tail end of last year, after months and months of rumor and speculation, Apple announced two brand new tablets ahead of the holiday shopping season and Black Friday. One, the iPad Air, replaced the iPad 4 as the company's large screen 9.7-inch model. The other, the iPad mini with Retina Display, a device that, as it name suggests, brought a Retina Display to the company's 7.9-inch line for the first time.
The iPad mini with Retina Display is arguably the best tablet that Apple has ever made and it's a device that, thanks to its hardware and software support, remains a solid option as it approaches its first birthday. It also helps that we've started to see some iPad mini with Retina deals emerge in recent weeks as we creep towards the fall.
Rumors suggest that we'll see an iPad mini 3 release later this year though one isn't guaranteed. So until then, the iPad mini with Retina Display remains a solid option for those in the hunt for a brand new tablet. It is, however, not the only tablet that consumers should be considering.
We are constantly bombarded with questions about which tablets to buy. In particular, we're constantly asked about the tablets consumers should weigh against the iPad mini with Retina Display. There are a number of different devices that we could recommend, the smartphone market is full of solid choices, but we want to narrow things down a bit and take a look at what we consider to be the top five.
These devices represent the devices that we'd recommend to friends and family. And while our list may differ from yours, these are the devices that Gotta Be Mobile editors have selected for recognition this month. We feel like the tablets listed here deliver the best, all-around package for this month and this month alone.
That said, here are the top five tablets to consider before buying the iPad mini with Retina Display.
iPad mini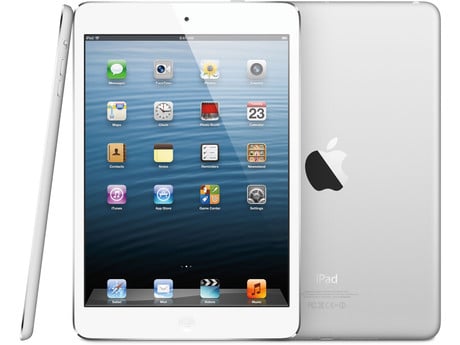 If you're looking to get into the Apple ecosystem, don't want to pay a lot of money, and don't care about the high-resolution Retina Display and the A7 64-bit processor found on the current iPad mini, take a look at the first-generation version of the tablet. It's still very good.
The first iPad mini won't offer you that crisp resolution that the Retina Display offers for games, movies and television shows but its display is still going to be very solid for most tablet users. And while it doesn't have the A7 chip, it's still going to be able to handle most games and content with ease.
iPad mini 1, like the current iPad mini, will be getting iOS 8 in the fall. That, combined with its price tag, make it a device that's worth checking out this month before buying in with the current version.

As an Amazon Associate I earn from qualifying purchases.