Top 5 Tablets to Consider Before Buying the iPad mini [July, 2014]
The arrival of last year's iPad mini with Retina Display did not signal the end for the original iPad mini. No, Apple simply dropped it down to a nicer price point to better compete with the cheap Android tablets on the market. And while it's certainly a solid option, there are some devices that we think you need to check out before you buy the $299 iPad mini.
Nearly two years ago, Apple took the stage and announced a brand new compact iPad called the iPad mini. The device, which arrived with a brand new design and some solid specifications, arrived at a cheaper price point than the larger 9.7-inch iPad. It did not, however, come with the high-resolution Retina Display that many were hoping for.
Retina Display or not, the iPad mini was extremely popular with consumers and went on to sell many times over in the United States and in countries around the world.
Late last year, the device was replaced by the iPad Air with Retina Display, a device that did come with a Retina Display as its name implies. And while the device was replaced by something newer, it remains a solid option thanks to its price tag, occasional deals, and thanks to the fact that it will be getting iOS 8 in just a few short weeks.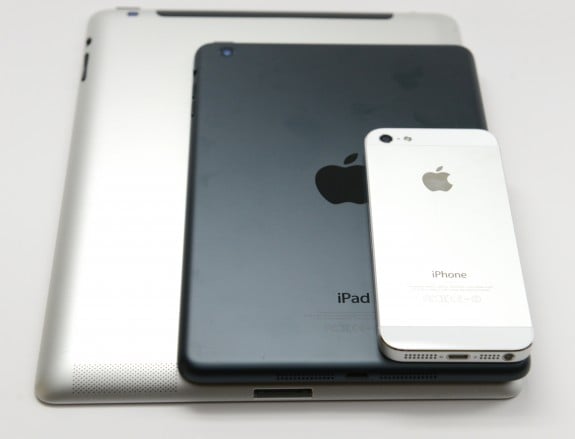 We are constantly bombarded with questions about which tablets to buy. In particular, we're constantly asked about the tablets consumers should weigh against the original iPad mini. There are a number of different devices that we could recommend, the smartphone market is full of solid choices, but we want to narrow things down a bit and take a look at what we consider to be the top five.
These slates represent the tablets that we'd recommend to friends and family. And while our list may differ from yours, these are the devices that Gotta Be Mobile editors have selected for recognition this month. We feel like the tablets listed here deliver the best, all-around package for this month and this month alone.
That said, here are the top five tablets to consider before buying the iPad mini.
iPad mini with Retina Display
The first tablet you should take a look at before buying the $299 iPad mini is the $399 iPad mini with Retina Display. For $100 more, you're going to get a number of big time upgrades including a better processor and the higher-resolution Retina Display.
The iPad mini with Retina Display's Retina Display means that you're going to get better looking content. Much better looking content. The 64-bit A7 processor that's on board will help to provide smoother games and mulitasking. These are absolutely huge and could be worth the extra cash to many of you.
If anything, take a look at this device if only to rule it out for yourself or a loved one before picking up the cheaper version of the iPad mini.

This article may contain affiliate links. Click here for more details.