7 Awesome iPhone 6 Plus Cases
This list of the top iPhone 6 Plus cases will help you find the best iPhone 6 Plus case for you needs, while picking from the limited selection available now.
Although there are a lot of iPhone 6 cases, we're seeing fewer options for the larger iPhone 6 Plus. You can order most of these iPhone 6 Plus cases now and even pick many of them up at Best Buy or a carrier location so you don't need to use your new iPhone 6 Plus without protection.
Like the iPhone 6, the iPhone 6 plus is slippery and many users will want to put a case on it, especially if they aren't investing in AppleCare+ or some type of iPhone 6 Plus warranty.
We're working through reviews of the best iPhone 6 Plus cases, but you can count on these brands to deliver a very similar experience to the iPhone 5s and other phones we've used these cases with.
We recognize that you've already spent $300 or more on the iPhone 6 plus, so we've rounded up several cheap iPhone 6 cases that aren't cheaply made. If you need temporary protection while you wait for more exciting or glamorous iPhone 6 Plus cases you can start with one of these.
If you are ready to purchase your main iPhone 6 Plus case, we also have a short list of the best looking and most protective iPhone 6 Plus cases you can find now.
You can order these iPhone 6 Plus cases on Amazon, at Best Buy and at most carrier stores. Some are only available from the company directly, which means a slightly longer wait.
If you are holding out for a waterproof iPhone 6 Plus case you'll need to wait a little longer, but there is a Lifeproof iPhone 6 Plus case in the works.
7 Awesome iPhone 6 Plus Cases
Spigen iPhone 6 Plus Cases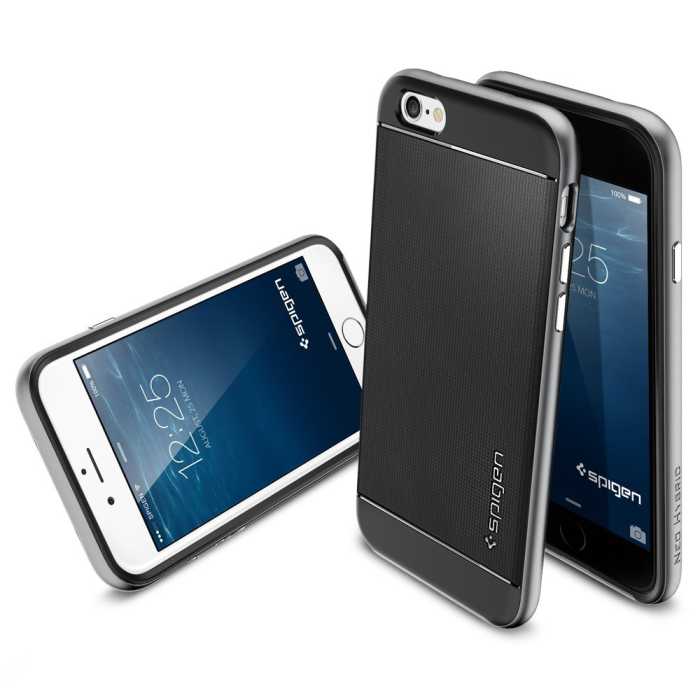 If you need an affordable iPhone 6 Plus case, Spigen is one of the best options you will find. Spigen offers a wide variety of iPhone 6 Plus cases from super thin to protective options and even a few iPhone 6 Plus wallet cases.
The company also offers an iPhone 6 Plus case with a kickstand, which is an excellent way to easily use that big screen for movies, videos and FaceTime.
Check out all of the Spigen iPhone 6 Plus Cases on Amazon starting at $7.99.

As an Amazon Associate I earn from qualifying purchases.