Top 10 Settings to Change on Your iPhone 6 Plus
These are the top 10 iPhone 6 Plus settings to change on your iPhone to instantly make your iPhone experience better. By changing these iPhone 6 Plus settings you will take control of notifications, get better battery life, unlock features and gain an iPhone that is much more enjoyable to use.
In less than 10 minutes you can make simple changes to the iPhone 6 Plus settings that will save frustration and time later on. You don't need to be a power user to find these options and turn them on or off.
if you get a new iPhone 6 Plus you can change these settings right out of the box, but the list is also great for users who want to change annoying parts of using the iPhone 6 Plus that they discovered after a few months.
We're not exaggerating when we say that changing these iPhone 6 Plus settings will help you sleep better, avoid annoying those around you and deliver a better experience for as long as you own your iPhone.
Here are the top 10 iPhone 6 Plus settings you should change.
Turn on VoLTE
The iPhone 6 Plus supports VoLTE (Voice over LTE) which delivers better sounding phone calls and allows Verizon users to talk and use the Internet at the same time. On some carriers this setting is already turned on, but you'll need to turn VoLTE on to use these features on the Verizon iPhone 6 Plus.
Go to Settings -> Cellular -> Enable LTE -> Voice & Data. That's all there is to use this feature. When talking to other people with an iPhone 6 Plus or iPhone 6 on the same carrier the calls should sound better and you can now talk on the iPhone 6 Plus while browsing the web.
Control Notifications
After installing the best iPhone 6 Plus apps and using the device for a week you'll start to notice how annoying notifications can be. If you play any free games or use Facebook you'll quickly see how much these apps interrupt your day. You can control notifications on the iPhone 6 Plus even after you tell an app that it is OK to show them.
Go to Settings -> Notifications -> Tap on the App You Want to Change -> Adjust to Your Needs. You can turn Notifications off completely for an app or just change how they behave.
Schedule Do Not Disturb
The iPhone 6 Plus includes an amazing feature called Do Not Disturb. Many people use this manually, turning it on when they need it and off when they are done, but you can set a Do Not Disturb schedule so you don't wake up all night due to apps buzzing and alerting you. This can also keep prank calls and wrong numbers form waking you up.
Go to Settings -> Do Not Disturb -> Schedule -> Choose the Times. You can also Allow calls from favorites and allow repeated calls so that emergency calls or calls from a boss or spouse can always get through.
Turn Auto Brightness Off
The iPhone can automatically adjust the brightness of the screen based on where you are. This is handy if you are always going from bright to dark settings, but it can cause bad iPhone 6 Plus battery life. When you are in the sun or a bright room the screen may go to full brightness. This uses the battery faster than keeping it at 40-50% all the time.
Go to Settings -> Display & Brightness -> Auto-Brightness -> Off. Now you will need to change this manually, but after you find the sweet spot you won't need to mess with it very often.
Turn on Hey Siri
When the iPhone 6 Plus is connected to power you can say, "Hey Siri" to activate the voice assistant. This is handy in a car or when the phone is charging on your desk or nightstand. You need to turn it on to do this.
Go to Settings -> General -> Siri -> Allow "Hey Siri" -> On. Now when the iPhone is charging or in an iPhone 6 Plus battery case with the power on you can just say, "Hey Siri" to use the feature.
Turn off Keyboard Clicking
If you use your iPhone 6 Plus in an office or share a house with a spouse you should immediately turn off the keyboard clicking sounds. This is incredibly annoying to a large part of the population, and unless you keep your iPhone on silent most of the time you will annoy people around you with the keyboard clicks.
Go to Settings -> Sounds -> Keyboard Clicks -> Off. If you also unlock and lock your phone compulsively, you might want to turn that sound off as well.
Turn on Battery Percentage
You can make the iPhone show you how much battery life is left using a percent indicator. This is great if you constantly let your iPhone 6 Plus battery get really low and it's also handy if you are one to charge your iPhone 6 Plus every other day. With the percent indicator you can know when to plug-in instead of just guessing based on a small icon.
Go To Settings -> General -> Usage -> Battery Percentage -> On. You'll now see the percentage next to the battery icon in the status bar.  DOn't be alarmed if you see the percentage jump soon after you take the iPhone off the charger.
Add Medical ID
The iPhone 6 Plus includes a free Health app that lets users create an emergency Medical ID that a first responder or hospital can see on your iPhone without the pass code. This includes emergency contact information and much more.
Go to the Health App -> Medical ID – Create Medical ID – > Show When Locked -> On. You can add medical conditions, medical notes, allergies, medications, blood type, if you are an organ donor and more.
Family Sharing
You can set up Family Sharing on the iPhone 6 Plus that will allow you to use the same apps, movies, music and books that other members of your house purchase. You can even limit the role of kids so that you get a notification when they want to buy an app. This is free to use, but you need to all be on the same credit or debit card for payment. Read our guide to using the iPhone Family Share tool to get set up.
iCloud Photo Library
Apple makes it easy to keep all of your photos and videos in sync across all of your devices. You can turn on iCloud Photo Library to sync all of your photos to your iPhone, iPad and online at iCloud.com. This is free, but if you have a lot of photos you may need to buy more iCloud storage down the line.
Go to Settings -> Photos & Camera -> iCloud Photo Library (Beta) -> On. This will start to sync your photos to iCloud. You can choose to keep full resolution on your iPhone or optimize to use less iPhone storage. Here's more on how to use iCloud Photo Library.
7 Awesome iPhone 6 Plus Cases
Spigen iPhone 6 Plus Cases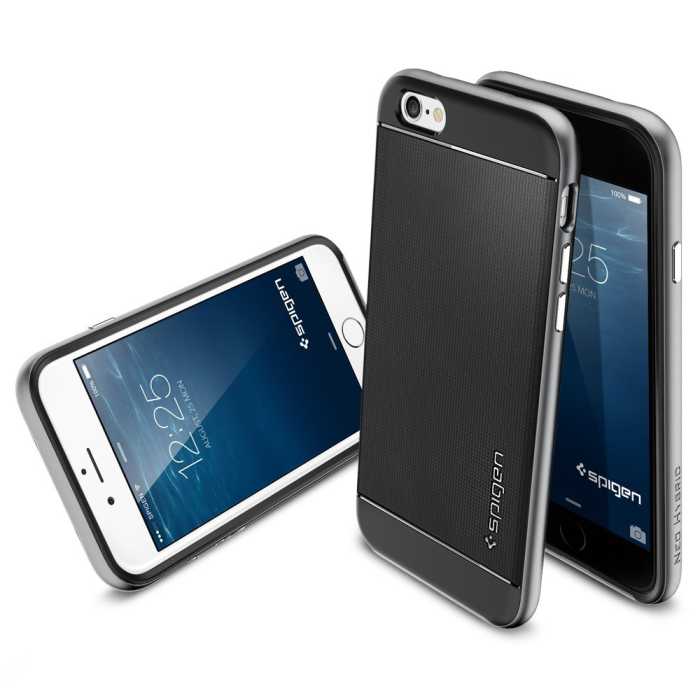 If you need an affordable iPhone 6 Plus case, Spigen is one of the best options you will find. Spigen offers a wide variety of iPhone 6 Plus cases from super thin to protective options and even a few iPhone 6 Plus wallet cases.
The company also offers an iPhone 6 Plus case with a kickstand, which is an excellent way to easily use that big screen for movies, videos and FaceTime.
Check out all of the Spigen iPhone 6 Plus Cases on Amazon starting at $7.99.

As an Amazon Associate I earn from qualifying purchases.