Top Samsung Chip Designer Joins Apple
According to a recent Wall Street Journal report, Apple has hired Samsung chip designer Jim Mergard. It's still unclear what Mergard's duties will be at Apple, but the designer had left AMD to join Samsung to work on ARM-based server processors. A definite role that Mergard would serve at Apple would be to help Apple expand and improve capabilities on its ARM-based A-series processor, of which the A6 was recently unveiled inside the iPhone 5.
Samsung is also a partner and a fierce rival of Apple. While Apple designs its A-series CPUs, it is Samsung, which had recently built a factory in Texas, that manufactures Apple's designs. Samsung is also a major component supplier for Apple, but the South Korean conglomerate also builds Android smartphones and tablets under the Galaxy moniker that competes directly with Apple's iPad and iPhone in the mobile space.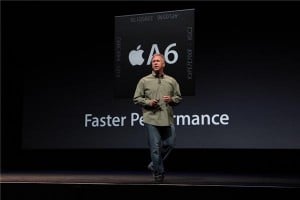 Apple has also been rumored recently to explore other options for processors within its notebooks and desktop line as well. The company currently uses Intel processors after having switched from Power PC chips, but Apple may be planning a long-term strategic move away from Intel to more powerful in-house A-series CPUs based on ARM Holdings' reference designs.
Rival software-maker Microsoft has already begun a transition of its Windows franchise to ARM. While Windows 8 will continue to support Intel, AMD, and x86 processors, a spin-off version called Windows RT designed for consumer tablets with long battery life and mobility is now utilized ARM processors for the first time. If Apple does the same thing, it could potential create greater synergies between the desktop-class OS X operating system with the mobile iOS platform.
Whatever the case, it really doesn't matter what happens behind the scenes. For now, it is safe to assume that Apple will want to grow its A-series design house and we can expect to continue to see more powerful chipsets in the future.