Top 10 Writing Apps For the iPad (Video)
The iPad is a great tool for writing, blogging and note-taking with the right tools.
I use my iPad to write on a regular basis, and these apps make it possible to get work done on the iPad, even replacing a laptop on short trips.
The key to content creation, note taking and writing on the iPad is using the best apps. I share the top 10 writing apps in the video below. From note taking and research to writing and posting online, these iPad apps are the best available.
Top 10 Writing Apps
iAwriter ($0.99) – iAwriter is the best way to write without distractions on the iPad. Even without an external keyboard the extra row of punctuation and navigation keys speed up typing dramatically. Thanks to iCloud sync, I can work on a document on my iPad, pick up on my iPhone and then finish on my iPad later. There's also a Mac app. Any article I write on the iPad begins in iAwriter.
Blogsy ($4.99) – Blogsy is a great tool for WordPress users, offering a built-in browser, great image placement options and much more. Blogsy is the best way to use WordPress on the iPad.
Pages ($9.99) – Pages is the best app for creating and editing word documents on the iPad. iCloud syncs documents between the iPad and iPhone for easy editing on either device.
WordPress (Free) – The WordPress app is good for small edits and changing post options, but is too limited to use full-time. I never compose an article in WordPress, nor do I place images using the app.
GoodReader ($4.99) – GoodReader allows users to keep documents and PDFs on hand for easy retrieval. I like that the service can hook up to storage solutions like Dropbox.
Evernote (Free) – Evernote is my favorite research tool. I post any article, idea or note I take to Evernote for retrieval when I am ready to write. Evernote makes these notes searchable, even handwritten notes.
Bamboo Paper (Free) – The Wacom Bamboo Paper app is a simple note taking app that offers a good solution for notes in simple situations.
Penultimate ($0.99) – Penultimate is the note taking tool I keep coming back to. It's not perfect, but the options and good inking experience is one of the best.
Notability ($0.99) – Notability is quickly replacing Penultimate as I learn how to use all the features. I love the palmrest that helps users avoid issues with palm marks. The app also handles PDF annotation, audio recording and more.
TouchDocs ($3.99) – TouchDocs is the best way to use Google Docs on the iPad. I'm still not a fan of how it handles spreadsheets, but for word documents it is stellar.
—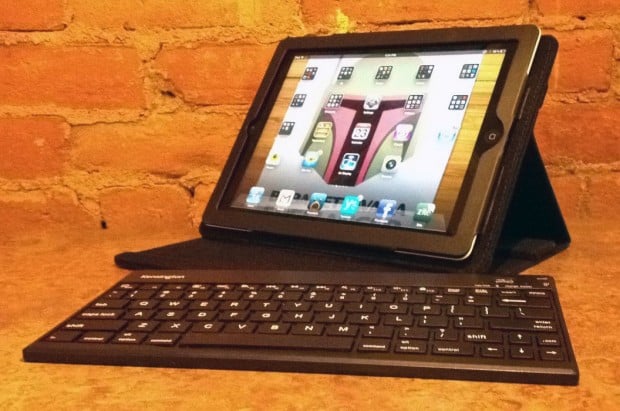 When I am serious about writing, I use an external keyboard like the Kensington Keyfolio Pro 2, which allows me to remove the keyboard from the case and prop my iPad up at a perfect angle.
With these iPad writing apps and the Kensington case my iPad can replace a laptop for a trip to the coffee shop.