Toshiba and Acer Say 90% of Netbooks Sold are Win XP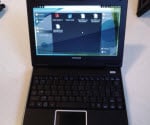 I don't think this is a surprise to anyone who has been paying attention, but Toshiba and Acer are saying that 90% of the Netbooks they are selling (the Acer Aspire One and the Satelitte NB100) are running Windows XP.
The Pocket-lint report also states that Dell is seeing similar trends as is Asus. So, what does that really mean? Are we seeing consumers saying "no thanks" to Linux? Is this a comfort choice from consumers not willing to take a gamble with Linux? I'm guessing yes and it looks like marketing data is confirming that.
"At the time of launch Linux volumes were higher as it was the only offering", a spokesperson for Asus said. ASUS recognised a demand for a Windows-based netbook. As such, the shift now is more towards Windows due to customer demand for Windows XP being that consumers are more familiar with the Windows platform".
Where will that put Netbooks, the Open Source crowd, and Microsoft next year? Who knows. But it will be interesting to watch as we get closer to Windows 7.
Via SlashGear






As an Amazon Associate I earn from qualifying purchases.