Toshiba DynaPad is Another Rival for Microsoft Surface
Whether you like the form factor or not, Microsoft's Surface line of productivity tablets have struck a cord with buyers. At CES 2016, Toshiba joined the growing number of companies vying to stop Microsoft's Windows 10 2-in-1s in their tracks. In a somewhat uncommon move, the company is going after Microsoft's weakest flank, the Surface 3.
Toshiba revealed the new Toshiba DynaPad this morning at the Consumer Electronics Show in Las Vegas, Nevada. Like other Surface rivals, the DynaPad is a thin and light tablet with stylus technology that's running Microsoft's Windows 10 operating system. Where it differs from other devices is its internals and writing experience. The company says that the tablet's writing technology and display gives users the feeling that they're writing on actual paper.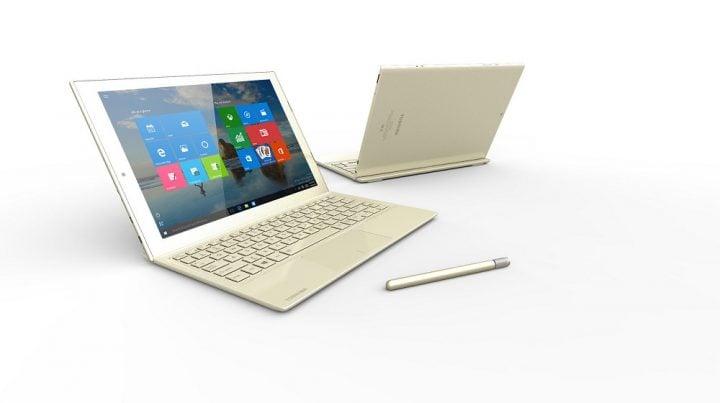 Inside the Toshiba DynaPad is an Intel Atom X5-Z8300 processor, 4GB of RAM and 64GB of storage. That processor is what makes it a Surface 3 alternative, albeit with a larger display. The Surface 3 has an Intel Atom X7 processor and 2GB of RAM in its base model. The DynaPad has built-in is a MicroSD card slot, Micro HDMI port, 2 megapixel front-facing camera and an 8 megapixel rear-facing camera that has autofocus.
Toshiba partnered with Wacom to create its own TruPen digital technology a few years ago. The Toshiba DynaPad keeps TruPen, but has over 2,000 levels of pressure and support for the company's TrueNote, TruCapture, TruRecorder, TruShare and TruClip apps free of charge.
For what it's worth, Toshiba is absolutely right to take on the Surface 3. Microsoft hasn't updated the tablet since last year. What's more, some have described the device as way too expensive. The Surface 3 costs $499 and doesn't include a keyboard cover or a digital pen. The Surface Pen is a $49.99 add-on. The Surface 3 Type Cover costs $129.99.
Toshiba.com has it available for pre-order for $649.