Toshiba Encore 2 Write Review
The success of the Microsoft Surface Pro 3 enticed many others to go after the Windows tablet market. Sadly most shoot for the low-end, like the Toshiba Encore 2 Write Windows 8.1 tablet. Microsoft itself followed up with the Surface 3, a 10-inch lower cost version of the Surface Pro 3 that sells for only $100 more than the Encore 2 Write. Earlier this year we called the Toshiba Encore 2 Write the best inking tablet available after seeing it at CES 2015. Before the Surface 3 came out, the Toshiba Encore Write 2 seemed like the best ten-inch Windows tablet available. How does it measure up now that we can get the Surface 3? Here's our review of the Toshiba Encore 2 Write.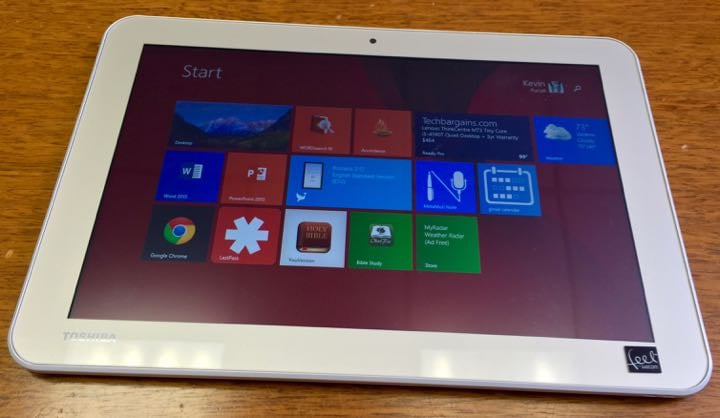 Toshiba Encore 2 Write Video Review
Here's our video review of the Toshiba Encore 2 Write ($399.99).
Toshiba Encore 2 Write Review Summary
Toshiba makes two versions of the Encore 2 Write, one with a ten-inch display reviewed here and the other includes an 8-inch screen.
Who's this tablet for?
Students, artists and business users could make use of Toshiba's ten-inch Windows 8.1 tablet thanks to the Wacom active digitizer and magnificent Toshiba TruPen stylus. It's light and thin, which helps students stashing it in a book bag or business users taking it on the road.
Here's a quick look at what we like and don't like.
What We Like: The Toshiba Encore 2 Write weighs less than most tablets while giving Windows users enough storage and power to work on documents, surfing the Internet and viewing video online. Most of these low-end Windows tablets only hold 32GB of content and less when we factor in the operating system and pre-installed software eating up a lot of that. Toshiba doubles the storage. It offers decent battery life and a great active stylus. The screen is bright. The build looks good and feels solid for a plastic housing. One free year of Microsoft Office 365 Personal and Unlimited OneDrive included saves buyers $70, which makes this a better deal. There's very little other software. Toshiba's bundled note taking, recording and video/image capture software is good enough to make me want it on other tablets and phones.
What We Don't Like: The low resolution screen means makes it less useful as an e-Reader. Plastic haters won't like the Encore 2 Write. Windows 10 can't come soon enough, because Windows 8.1 is one of Microsoft's worst operating systems. The micro ports/slots require dongles and adapters. Toshiba put the Window Start button in an awkward place. Some of the best tablet apps available either don't come in the Windows store, or they come with fewer features as their Android or iOS versions.
Toshiba Encore 2 Write Display
The bright IPS display looks good in spite of the low resolution. I ran it at about 50% brightness and could see the screen even in a bright room with plenty of ambient light.
The low resolution means text won't look as crisp and images or video quality suffers a little. It's not a huge problem. The 1280×800 display looks better than most low resolution screens.
The screen reflects light, making it hard to use outside. Pumping up display brightness to 100% helps, but don't plan on reading or watching movies in the yard or at the park on a lunch break.
Toshiba Encore 2 Write Design
The design of the Toshiba Encore 2 Write mixes good and bad. It's fairly thin and light. However, it's a plain design, especially compared to the iPad Air or Surface. Toshiba calls the color "matte Satin Gold finish." The gold is subdued and looks silver in most light.
There's no built-in kickstand like we get on the Surface, but that lessens the weight too.
Some people hate a huge bezel around the screen, but this makes it easier to hold without engaging the touch screen. Still, a smaller bezel could give users a bigger screen at the same size or a smaller tablet with the same size display.
On the front of the tablet there's no Start button. It's on the top edge. On front there's a front facing camera and Toshiba's logo plus a "Wacom feel" sticker. More on that later.
On the left edge in landscape mode, we find the micro-USB port, a micro-HDMI output, the micro-SD card slot, one of the two stereo speakers and the mic jack.
All the "micro" ports and connectors means the user needs adapters to hook up the HDMI or USB ports. Since most cameras come with full-sized SD card slots, the user will need to replace theirs with a micro-SD card slot to offload their pictures to the tablet for editing and sharing. The micro-ports are a necessary trade-off to such a thin tablet (.37-inches). Since people don't do as much screen sharing and since this tablet isn't useful for serious photo or video editing, this becomes a minor drawback.
The micro-SD card caused a problem. Thinner cards, like my 64GB Sandisk micro-SD card, won't stay mounted. I replaced it with another card and the problem went away, so it might be the card. However, that card works fine in other devices.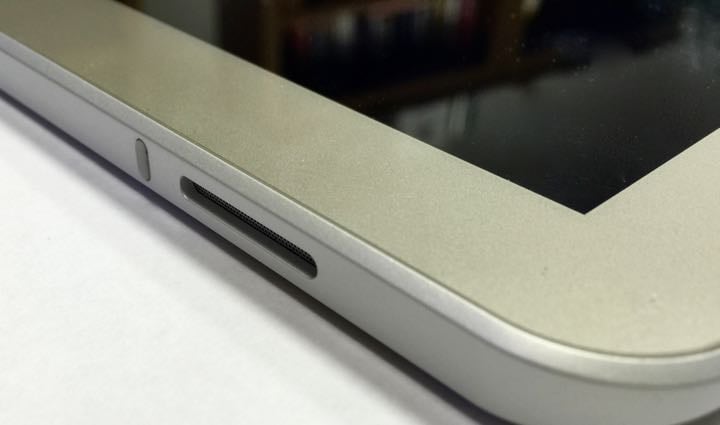 On the opposite side we find the other stereo speaker and the slot for holding the Toshiba TruPen active stylus (see below).
On the top of the tablet we get the power button (see below). Use it to turn the screen on and off. Press and hold it to power off the tablet if it ever freezes up. There's also a volume down/up rocker button. The Window button sits in the middle of the top edge. That's an awkward spot and as a result I never used it. Instead I swiped in from the sides to use the software Start buttons in Windows. The Start button plus the volume down button takes a screenshot.
Two tiny holes give us stereo microphones.
The bottom only holds the slot used to tie the pen to the tablet with the tiny string the user can attach to the slot and the pen so they don't lose the stylus, which would cost $50 to replace. I didn't use the string because it gets annoying when I'm not using the pen.
Toshiba Encore 2 Write Pen and Touch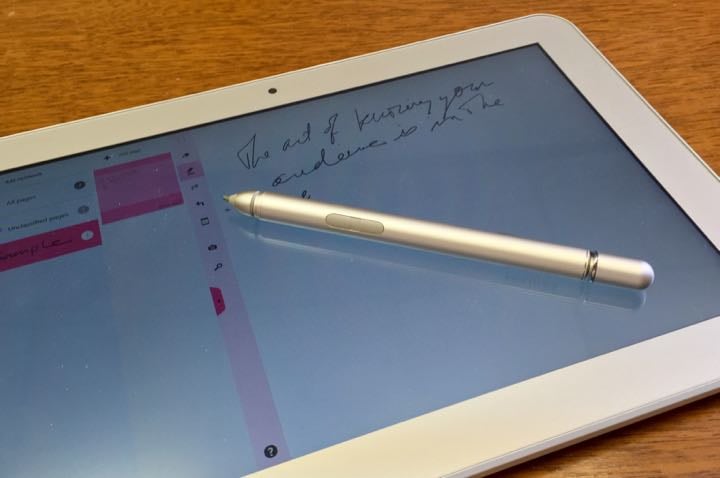 The Wacom digitizer and Toshiba TruPen Stylus make for a beautiful inking and drawing experience. When Toshiba launched the tablet at CES 2015, we called it the "best in class note-taking experience" and that's because of Toshiba's Wacom "Feel technology" for active digitizers. The pen flows and accurately creates nice strokes. Artists can get a great art app for painting and drawing and they'll love the Toshiba Encore 2 Write. The tablet never needed pen calibration once after a lot of handwriting in meetings and personal study.
The Toshiba TruePen Stylus slides into a slot on the right bottom corner. A cap covers the fine tip of the pen. It uses a AAAA battery to power the pen. There's no pairing with the tablet. It worked out of the box. The pen includes a clip to fasten to the tablet or hold in a pocket or computer bag.
The pen and digitizer mean users can get accurate and responsive interaction with the operating system. Microsoft didn't make all the on-screen buttons easy to select or tap with a finger, so a fine-tip pen makes Windows and PC software easier to use.
The 10-point capacitive touch screen responds quickly. Despite the low-powered Atom processor and a meager 2GB of RAM, Windows 8 runs fluidly and responds instantly. We get some lag with lots of apps running, though.
Software
The Toshiba Encore 2 Write comes with the bare minimum of bloatware, which means an enjoyable out of the box experience. As always, there's the typical Windows updates to download during the first day of use. However, it's far better than needing to unload a tone of crapware that bogs down the system and clutters up the 64GB of storage.
When the user first runs the tablet, they will see some programs with links on the Windows 8.1 Desktop Taskbar. Most of these link to Toshiba online sites for online storage, travel and a user guide. However, we also also get three useful tools that students, artists and business users will love.
Toshiba TruNote – an excellent note-taking and handwriting application that is so good I wish I could install it on other tablets.
Toshiba TruCapture – a great scanning and photo-taking app that beautifully interfaces with TruNote.
Toshiba TruRecoder – a useful audio recorder that lets users add record things like meetings or lectures and imports audio from other devices like a smartphone with audio bookmarking to make it easy to find important points in a meeting or class lecture.
The TruRecoder will export audio, suppress pen noise that might get picked up when the user records audio while taking notes. Fire it up and it begins recording in the background. When the user taps the record button, it adds the last ten seconds to the front end of the recording. When someone says something profound, hit record and you won't miss out on the last statement like you would with other recording apps that don't do this background recording. The app doesn't save everything. It throws away everything before that ten second padding.
TruCapture will analyze what's picked up by the camera and automatically crop to grab only the page or whiteboard getting rid of the rest of the image. It limits reflection on things like whiteboards or white glossy paper under bright lights. A feature called High-resolution Scan will de-noise shots, de-blur images and produce more detailed images. It also tries to enhance color and recognize characters in documents.
TruNote organizes notes into notebooks with pages. The pen detection will turn off the touchscreen so that a user can rest their hand on the screen while taking notes. This palm rejection works better than anything I've tried on other tablets. The app interfaces with TruCapture for importing images and documents into notes. I take a photo of handouts in meetings and hand the paper back. That gets me a puzzled look, but I don't have to keep up with paper, so it's worth it. Plus, the app will recognize the text so I can later search it.
Performance and Battery Life
Toshiba promises 11.1 hours of battery life, but in real-world use it lasted about 6-8 hours with almost constant use, screen brightness at full with Wi-Fi and Bluetooth turned on. I connected a Bluetooth keyboard and mouse while using the Wi-Fi a lot. That's not bad for a Windows tablet under heavy usage. Reduce the screen brightness and turn off Bluetooth gives users another hour or two depending on what they're doing.
The Toshiba Encore 2 Write performed reasonably well considering it ships with an Intel Atom processor and only 2GB of RAM. The built-in Windows Metro-style or Modern apps run great. Office programs load quickly and switching between traditional Windows programs happened instantly. I use one app that takes a lot of power to run smoothly. It brought the Encore 2 Write to it's knees, so I uninstalled it. There's not an Intel Atom-based computer anywhere that will run this app well. I didn't bother to install Photoshop, which also slows down on low-end hardware.
People who want a tablet for simple needs can get along with the Encore 2 Write. It performs well for a device with these specs. It excels when used for things like wireless presentations thanks to Miracast support or for note taking with the TruPen. Casual games from the Windows Store and office apps work great on it.
Toshiba Encore 2 Write Camera
A tablet camera doesn't need great optics or high-quality glass since most people will use it as a scanner for documents or as an emergency point-and-shoot when they can't use their phone or dedicated camera. The 8MP rear camera took better shots than one might expect. The front camera shots look terrible, but it's not bad for Skype.
Here's a slideshow of the snapshots taken. Click each picture to see the full resolution version.
Watch the video sample of the two cameras below.
Final Thoughts
Business users and students with simple needs will love the [amazon_link id="B00R2HRYJO" target="_blank" ]Toshiba Encore 2 Write WT10PE-A264 10.1-Inch 64 GB Tablet[/amazon_link]. If a 10-inch tablet seems too big, get the [amazon_link id="B00R2HRYXU" target="_blank" ]Toshiba Encore 2 Write 8-Inch version[/amazon_link] and save $50.
Before hitting buy, check out the [amazon_link id="B00VGNZ4PG" target="_blank" ]Microsoft Surface 3[/amazon_link]. It compares nicely but has a higher resolution and better hardware. It costs $100 more and doesn't come with the $59 stylus. It has a three-position kickstand, making it easier to stand up on tables or desks than the Toshiba Encore 2 Write. Users can get the Type Cover which snaps to the Surface 3 and includes a touchpad. However, it also adds another $129.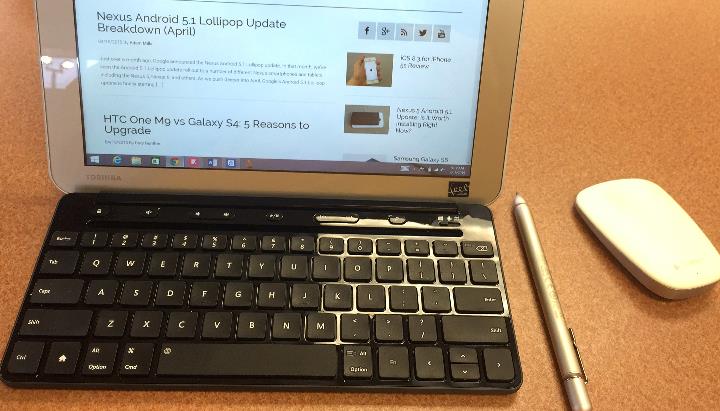 The Surface 3 plus the Surface Pen starts out at $550 for the same 64GB of storage. It's better hardware, but price conscious buyers can enjoy the Toshiba without too many compromises. People who need more storage should grab the 128GB version of the Surface or save money and get the Toshiba and add up to a 32GB micro-SD card to get almost as much storage as the high-end Surface 3.
Pick up a [amazon_link id="B00MV72REW" target="_blank" ]Microsoft Universal Mobile Keyboard[/amazon_link] that we recently reviewed to get the same functionality as the Surface 3 with Type Cover. Mouse lovers should grab the [amazon_link id="B00DR8LA6U" target="_blank" ]Logitech Ultrathin Touch Mouse T630 for Windows 8 Touch Gestures[/amazon_link] to get a great mobile workstation that takes up very little space and doesn't cost a lot.
Toshiba Encore 2 Write (WT10PE-A264) Specs
10.1-inch 1280 x 800 WXGA Display 16:9 ratio with 10-point capacitive touch and Wacom active digitizer with Toshiba TruPen stylus
Intel® Atom Processor™ Z3735F (Up to 1.83GHz)
Mobile Intel HD Graphics
2GB of RAM
64GB of internal storage and a micro-SD slot for expansion and 1-year unlimited OneDrive
8MP rear facing auto focus HD camera and 1.2MP fixed focus front facing camera
Windows 8.1 plus Office 365 (1-year included)
Toshiba Storage Place, Favorites, System Driver, Travel Place, TruCapture, Service Station, Start Place and User Guide
Dolby Digital Sound with stereo speakers
Ports: micro-HDMI out, micro-USB 2.0, micr0-SD, Headphone and mic combo port, AC adapter
802.11a/b/g/n Wi-Fi and Bluetooth 4.0
2-cell Lithium Ion battery with up to 11.1 hours (about 8 real-world)
Digital Compass, GPS, Gyroscope, 3-axis accelerometer
1.21lbs
10.20 x 6.90 x 0.35 in (259.08 x 175.26 x 8.89 mm)
Satin Gold

As an Amazon Associate I earn from qualifying purchases.