Toshiba Encore 8-inch Windows 8.1 Tablet Announced
Today at IFA 2013, some of the first Windows 8.1 devices are being unveiled, including the first 8-inch Windows tablet from Toshiba, called the Encore. It looks to be the company's attempt at taking on the iPad mini at full force, with the same $329 price tag. The Encore rocks a higher-res 1280×800 screen packing in an Intel Atom Bay Trail T quad-core processor, 2GB of RAM, and 32GB of internal storage.
The Encore sports a HFFS display, which means the viewing angles are superb and the brightness and colors will be more consistent, and it also come with 5-point multitouch — just enough to navigate with one hand using all five digits without a problem.
The Encore sports an 8-megapixel rear camera and a 2-megapixel front-facing shooter, both of which are capable of shooting both photos and 1080p videos. The company says that the tablet is "optimized for Skype," thanks to the cameras and the on-board dual "beam-forming" microphones for better audio quality on their end when you're chatting away.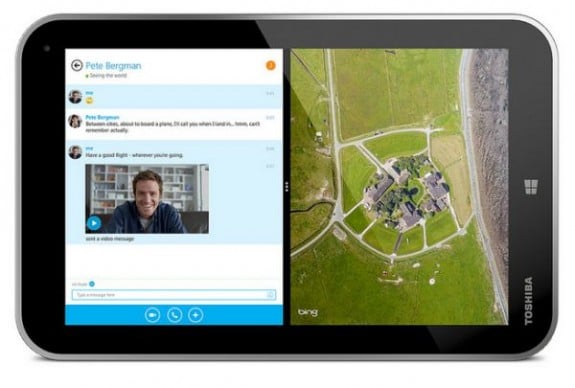 The Encore's body is made of plastic, but the aluminum color and texture makes it look like a premium product that's capable of taking on the iPad mini in any beauty contest, although the rear shell of the Encore is oddly plain-looking, with nothing but a small Toshiba logo at the bottom and the camera module in the top-left corner.
Size wize, the Encore measures in at 8.4 inches long, 5.3 inches wide, and a mere 0.42 inches thin, making it a great piece to easily slide in and out of any bag without a problem while on the go. The Encore also includes WiFi a/b/g/n and Bluetooth, but you won't get the option of adding any cellular bits, unlike the iPad mini. However, you will get more options as far ports go, with microUSB 2.0, micro HDMI, a microSD slot (up to 64GB cards), and a 3.5mm combo audio jack.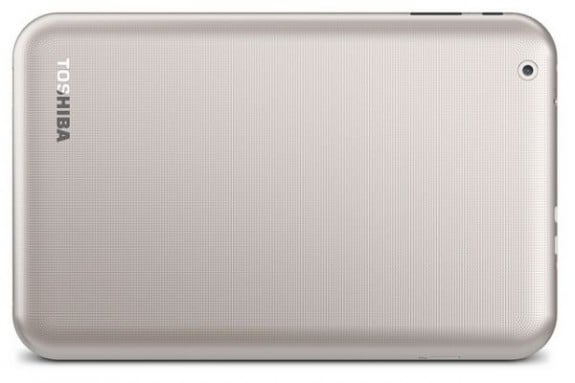 The Toshiba Encore will start shipping to customers and make their way to store shelves starting sometime in November, at a price of $329. This is the exact same price of the iPad mini, proving that Toshiba is sending a passive aggressive message to Apple saying that they're ready to go head-on with the iOS tablet maker. Now we'll just have to wait and see if these 8-inch Windows 8.1 tablets can make a splash in the market, or if Apple will continue their dominance in the tablet game.