Toshiba Excite 10 LE Review
Last year Toshiba waded into the Android tablet market with the Thrive, a 10.1-inch slate that served as the company's response to what they deemed missing in the then current crop. Thus, it had several full-size ports, a rugged-ish exterior, and a thick chassis to accommodate both. Though a decent tablet, the Thrive didn't generate much consumer excitement.
Lesson learned, Toshiba went back to the drawing board and emerged with the Excite. Instead of being the thickest, the Excite claimed the throne as thinnest Android tablet, yet still has ports that other tablets sadly lack.
Even at this, the Toshiba Excite 10 LE still remains a middle of the pack kind of tablet. Though it sports a top of the line price: $529. Is ultra thin and ultra light worth a $30 premium over popular tablets like the iPad and the Galaxy Tab 10.1? Read our full review to find out.
Pros

Thin and light
More ports than the competition
Stock Android

Cons

Expensive compared to the competition
Middling battery life
Crosshatch pattern visible on display
Excite 10 LE Review Guide

Related Excite 10 LE Review Articles

Buy the Excite 10 LE


[amazon_link id="B0074WP29G" target="_blank" container="" container_class="" ]$509 at Amazon[/amazon_link]

Design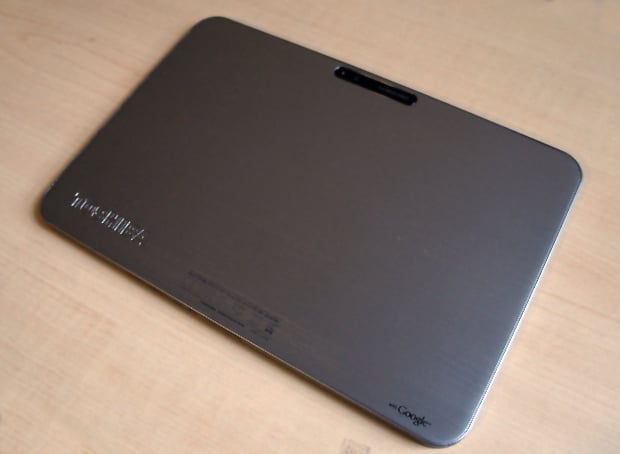 The Excite 10 LE can still claim the mantle as thinnest tablet thanks to a 0.3-inch thickness, but the lack of taper and flat edge makes it seem less svelte than other tablets if you eyeball it. Along with the slim casing you also get a light 1.23 pound weight. The combination makes for a tablet that's nice to hold and easy to slip into a slim briefcase or messenger bag pocket.
Having a flat edge instead of one comfortably curved makes a noticeable difference when holding the Excite, but not so much that it feels uncomfortable. The thinness helps there. Due to this design Toshiba was able to include a microSD card slot plus microHDMI and a microUSB ports. A wide 30-pin proprietary port on the bottom fits a rather chunky connecting cord that feels a bit obnoxiously large when compared to connectors from Apple and Samsung.
The 30-pin port is only for charging. To connect to a computer you'll need a microUSB cord (not included).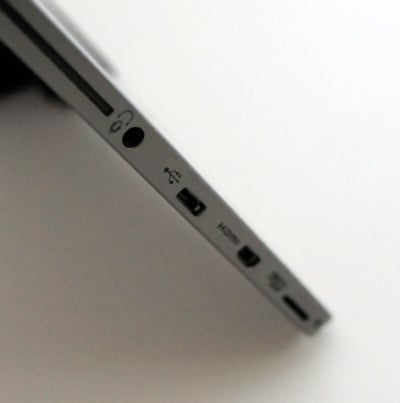 The edge has a black seam that splits the chrome almost all the way around that gives the impression that a user could pry the bottom and top halves apart with enough force. There's also a gap between the chrome of the edge and both the front and back facades on the tablet, which again gives the impression the Excite would be easy to dismantle — not a great impression.
Despite this, the tablet feels sturdy thanks to the brushed magnesium alloy back. Gorilla glass protects the front, so you don't have to worry about slipping on a sleeve every time it leaves the house.
Toshiba Excite 10 LE Display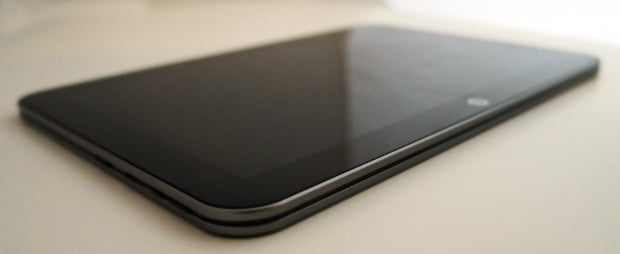 The 10.1-inch, 1280 x 800 resolution display offers wide viewing angles so the image stays clear and colorful while watching videos or playing games. Users get the benefits of bright colors and true blacks without needing to turn the brightness up to 100%. And the HD resolution means text and icons look crisp.
Outdoor visibility is decent as long as you have the brightness turned up. But when indoors you can keep it at 20% or below and still get a good experience.
An underlying grid/crosshatch pattern is visible on the tablet at certain angles, but I didn't experience the distraction mentioned by other reviews. It's most prominent where the screen is dark and bright light reflects off of it. With light backgrounds, such as on websites or when reading a book, it's less apparent unless you really look. Most of the time I didn't notice it.
Software and Apps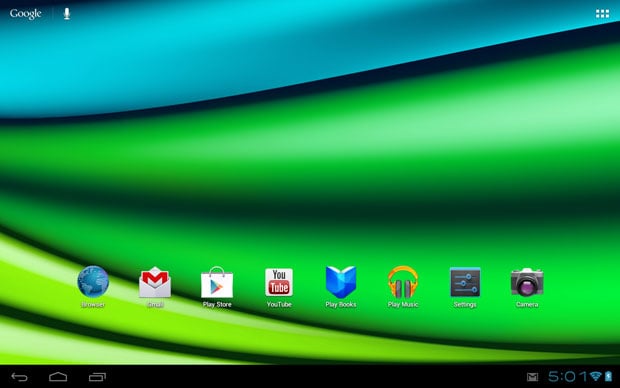 Some Excite 10 LE units may still ship with Android 3.2 Honeycomb, but it's a simple matter top trigger an over-the-air update to the latest OS, Android 4.0 Ice Cream Sandwich. Toshiba doesn't add an extra skin or user interface to their tablets, so users get Android the way Google made it.
Toshiba pre-loaded their standard apps — Book Place, Media Player, Printer Share, Service Station, File Manager and App Place — plus some third party titles. The extra apps range from entertainment and games to a few productivity titles and utilities. None of them rise to the level of CRAPPS, though it's still annoying that users can't uninstall them.
Toshiba Excite 10 LE Performance and Battery Life
Under the hood the Excite 10 LE runs on a dual-core 1.2-GHz TI OMAP 4430 CPU and 1GB of RAM. Most new Android tablets rock Nvidia's new quad-core Tegra 3 chip. So, what are you missing out on with dual-core performance?
Not much, when it comes to the basics. After the upgrade to ICS the Excite proved much speedier and less buggy than it was with Honeycomb. I saw excellent responsiveness when opening apps, swiping between screens and playing videos. When I fired up resource-intense games like Grand Theft Auto III and games that require precision and quick response like Fruit Ninja the Excite delivered smooth framerates and good gameplay.
However, as more tablets with quad-core processors hit the market, the best games will gravitate toward the greater power offered there. If your main reason for getting a tablet is gaming on the go, the Excite will serve your needs today, but possibly not down the line.
Two thin speaker slots on the bottom of the Excite pump audio at a decent volume, though the quality isn't as full as you'll get from external speakers, naturally. They're good enough for the occasional video, but if you're going to use the Excite to listen to music for a long period, grab some external speakers or headphones.
Toshiba promises up to 8 hours of battery with continuous use, but the reality often fell short of that. It usually only took 3 hours of use to get the battery down under 60%, even when only reading eBooks or surfing the web. Games drained the battery much faster. Using the LAPTOP Magazine Battery Test (continuous surfing over Wi-Fi) the tablet lasted 6 hours and 31 minutes.
Cameras
The rear-facing 5MP camera produces some decent shots outside, but inside or in mixed light the pictures are grainy or imbalanced.
The camera is capable of up to 1080p video capture, and the resulting movies are quite crisp. Colors aren't impressively deep, but the quality is still good enough for sharing online or even via a big screen. The microphone is sensitive enough to capture far away voices but may prove a problem in windy conditions.
A 1.3MP camera sits in front, centered above the display. Here again you get decent but not wow-worthy images. It delivers somewhat blocky video on chat or Google+ hangout.
Is the Toshiba Excite 10 LE Worth $529?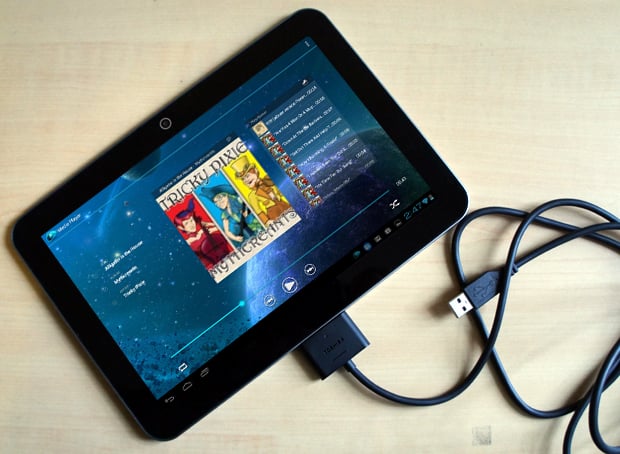 Once again, Toshiba produced a tablet that has most of you'd expect from from a 10-inch Android slate plus a few extras like card slots and ports. Now that it runs the latest version of the operating system and no longer suffers from pesky performance issues, it's a viable option for buyers.
When you get right down to it, the Excite 10 LE is a pretty middle-of-the-road tablet. I know, this sounds weird coming from the person who said the same thing about the thicker Thrive last year. The Excite doesn't have its predecessor's drawbacks, but also doesn't have a wow-inducing feature beyond how thin it is. There's nothing wrong with a solid, if average, tablet. Except that Toshiba wants $529 for it.
That's $30 more than the iPad 3rd gen with its Retina Display and $150 more than the new ASUS Transformer Pad TF300 with a Tegra 3 chip that's designed to work with an optional keyboard dock (that costs extra). And it doesn't appear to have anything to really challenge the upcoming Galaxy Tab 2 10.1, which will cost $130 less.
Bottom Line: the Toshiba Excite 10 LE is a solid tablet, but you may want to wait until it comes down in price before scooping it up.
Gallery
Toshiba Excite 10 LE Specs
| | |
| --- | --- |
| OS | Android 4.0 Ice Cream Sandwich |
| Display (size/res) | 10.1 inches / 1280 x 800 |
| CPU and RAM | 1.2-GHz TI OMAP 4430 (dual-core), 1GB |
| Internal Storage | 16GB |
| Expansion | microSD slot (up to 32GB) |
| Ports | microUSB, microHDMI, 30-pin, headphone |
| Cameras | 5MP (rear), 1.3MP (front) |
| Wireless | Wi-Fi 802.11 b/g/n; Bluetooth; GPS |
| Size | 10.1 x 6.9 x 0.3 inches |
| Weight | 1.23 pounds |

As an Amazon Associate I earn from qualifying purchases.