Toshiba Excite 7.7 Review
The Toshiba Excite 7.7 is the most exciting Android tablet I've used thanks to a slim design, perfect size, beautiful display and powerful Tegra 3 processor.
It's the only tablet that's allowed me to leave my iPad on the desk for an entire week. The Toshiba Excite 7.7 is much easier to carry than the massive 13-inch Toshiba Excite 13.3 I've used this week, and the ability to take it anywhere is a big reason why I used it so much.
The Toshiba Excite 7.7 is an impressive tablet, but the $580 price for the 16GB model puts a damper on the party.
Read the rest of my Toshiba Excite 7.7 review to find out how the tablet performs and if it should be your next, or first, Android tablet.
Pros

Size
Great display and graphics
Design

Cons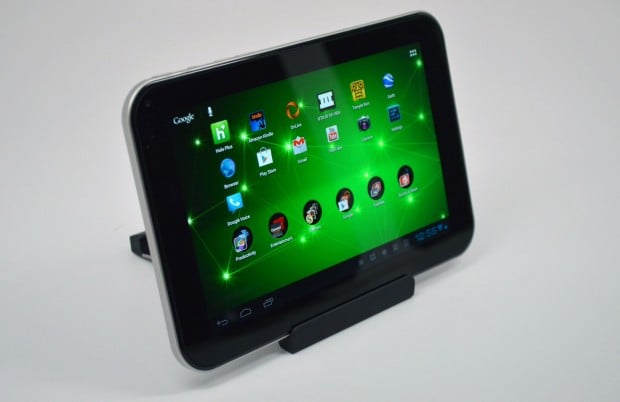 Toshiba Excite 7.7 | $579

Toshiba Excite 7.7 Review Guide

Related Toshiba Excite 7.7 Review Articles

Related Toshiba Excite Reviews

Buy the Toshiba Excite 7.7
Design
Like the larger Toshiba Excite 13 tablet, the Excite 7.7 delivers on style and feel. Users deciding between the Toshiba Excite 7.7 and the iPad don't need to choose between tablets based on build quality. The  Excite 7.7 and the Excite 13 show what Toshiba can do in the tablet space and are a marked improvement over the Toshiba Thrive.
The rear of the Toshiba Excite 7.7 has a two-tone finish with a crosshatch design on the majority of the flat surface. The tablet is 0.3 inches thick and weighs 13.4 ounces, which means users can take this tablet anywhere. There is little flex on the tablet and it feels like it will hold up well over time.
Toshiba includes a number of useful ports including a MicroSD card slot and a MicroUSB port. There is no MicroHDMI port, so don't plan on hooking this tablet up to a monitor or HDTV. Unfortunately the MicroUSB port is not for charging. Instead, users need to use a proprietary dock connector.
Display
The Excite 7.7's big draw is the 7.7-inch display. The screen is smaller than the iPad and much more suited for travel in a purse or pocket. The smaller size also makes it excellent for reading books and magazines. Even though the screen is small, the display has a 1280 x 800 resolution that offers a lot of space on the screen for reading and working.
The viewing angles are good and the display is brighter than the Excite 13, which is a big plus. I wouldn't plan to share a full movie with someone on this smaller display. Thanks to the smaller display, the Excite 7.7 works as well in landscape as it does in portrait mode.
Users who need to type a lot will not like the Excite 7.7 for productivity. The keys are bigger than a smartphone, and my thumbs reach the middle of the keyboard, but it is still too small to lay down and type with multiple fingers.
Performance
The Toshiba Excite 7.7 is a thin tablet with a small display, but it's packing plenty of power. Toshiba packed an NVIDIA Tegra 3 processor with 1GB of RAM and it's tough to make this tablet lag.
The Excite handles local and streaming video excellently. Switching between apps is responsive, though there is often a second of lag between tapping the second app and being able to interact with it. Fortunately the tablet is good at letting users know they have tapped correctly thanks to haptic feedback and animations.
The NVIDIA Tegra 3 processor opens up a level of gaming not found on the average Android tablet. ShadowGun THD looks great on the Excite 7.7 with beautiful graphics and smooth gameplay. The video below shows the difference in a game on the Tegra 3 processor vs. a standard Android tablet.
The Toshiba Excite 7.7 doesn't bring the performance problems of previous Android tablets to this new generation of Android tablets.
Battery Life
Using the Laptop Mag battery testing tool, which surfs the web with the screen set at 40% brightness and notifications off, the Toshiba Excite 7.7 lasted 6 hours and 19 minutes.
This is respectable for the size, but don't plan on lasting an entire day of use on this tablet unless users turn brightness down and WiFi off. Users can enable Balanced Battery Power for an added boost in battery life.
Audio
Even with the SRS sound enhancement, don't expect a lot of volume form the two downward facing speakers. The speakers will work for video clips and in a pinch, but I suggest investing in a good pair of headphones to listen to music and movies.
Cameras
The Toshiba Excite 7.7 includes a 5MP rear facing camera and a front facing 2.0MP camera for video chat. The smaller size of the Excite 7.7 makes it easier to use for photographs, but it still feels odd as a dedicated camera in public. The shutter speed is also very slow indoors.
The front facing camera is adequate for video chats, and better than those found on many phones and other Android tablets. Toshiba placed the front facing camera in the corner, not in the middle of the device, which suites landscape and portrait use.
The rear camera takes decent videos, though I would grab my phone instead.
Software and Apps
Toshiba does an amazing job of including apps users will use and enjoy. The Excite 7.7 comes with a full version of LogMeIn that connects users to their Windows PC or Mac for remote control of a computer.
Toshiba also includes a lite version of QuickOffice HD, capable of editing documents. There are also a number of entertainment apps and a number of games like Hearts, Spades, Euchre and BackGammon.
The tablet has full access to the Google Play store for more apps and comes loaded with Google Maps. The tablet has GPS built-in so it is possible to use it for directions, though without a mobile Internet connection, users will want to look for apps that keep local copies of maps.
Is the Toshiba Excite 7.7 Worth It?
The Toshiba Excite 7.7 is one of the first Android tablets good enough to leave my iPad untouched. The small size and good build quality make for a tablet that is perfect for carrying whenever I leave the house.
The ability to play great looking games on the Toshiba Excite 7.7 is a big plus for users who want a small tablet capable of being the only tablet they need to carry.
Tablet shoppers looking for an Android tablet should keep the Excite 7.7 at the top of their shopping list. The decision is harder for users comparing the iPad and the Excite 7.7, because the Excite 7.7 is $80 mor than the new iPad.
The iPad arguably offers a better value for users who want unfettered access to apps and accessories, but the Excite is worth looking at before purchasing a new tablet.
Gallery
Toshiba Excite 7.7 Specs
| | |
| --- | --- |
| OS | Android 4.0 Ice Cream Sandwich |
| Display (size/res) | 17.7 inches / 1280 x 720 |
| CPU and RAM | NVIDIA Tegra 3, 1GB |
| Internal Storage | 16GB |
| Expansion | MicroSD slot (up to 32GB) |
| Ports | microUSB, headphone, orientation lock, dock |
| Cameras | 5MP (rear), 2.0MP (front) |
| Wireless | Wi-Fi 802.11 b/g/n; Bluetooth; GPS |
| Size | 5.30 x 8.10 x 0.30 inches |
| Weight | .84 pounds |

This article may contain affiliate links. Click here for more details.