Toshiba Introduces Portege Z830 Ultrabook at IFA
Ultrabooks are hitting the IFA trade show, which is known as the German CES, in a big way much like how 3D HDTVs were the stars of CES a year ago, and Toshiba is bringing to the show its new Portege Z830 ultrabook. The Portege Z830 highlights portability and performance, the latter category is something that was not a feature that was achievable with a netbook.
The Portege Z830 series is, according to Toshiba, the world's lightest ultraportable on the market today, weighing at just 2.45 pounds and measuring 0.63 inches, beating out the industry-leading 13-inch Apple MacBook Air with a weight of 2.96 pounds and maximum thickness of 0.68 inches.
Though light, the Toshiba Portege Z830 is no lightweight and is able to hold its own to stand up to everyday life and user abuse with a spill resistant keyboard, magnesium allow case with a rigid Honeycomb Structure to give it extra strength, long 8-hour battery life, 1 USB 3.0 port, 2 USB 2.0 ports, VGA port, HDMI output, Ethernet port, and an SD card reader. The design also comes with a backlit keyboard, SSD drive, and also Toshiba's sleep and charge feature that can offer pass-through USB charging while the laptop is in sleep mode.
In talking with Toshiba reps in advance of the IFA announcement in Germany, I had learned that Toshiba had spent some time optimizing the Portege Z830 to offer fast times to resume the device from sleep and hibernation. This, combined with the SSD drive, should get users on the go fast and easy to accommodate the mobile road warrior's lifestyle.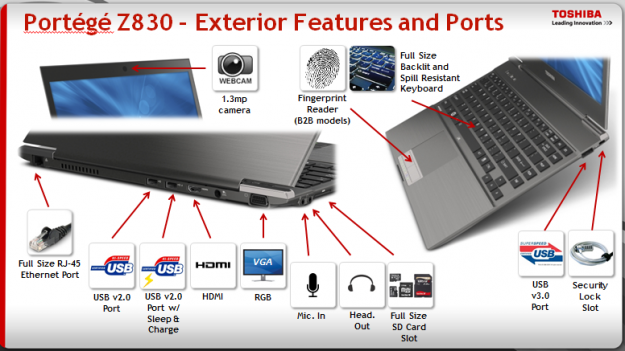 The device will ship with Intel Core CPUs, and various configurations will be available at launch that will feature a sub-$1,000 price tag.

This article may contain affiliate links. Click here for more details.