Toshiba NB100 Netbook Hands on Review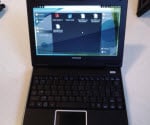 The folks at TechRadar got their hands on Toshiba's NB100 Netbook and have published a review. It has the usual array of specs that we've all become accustomed to on Netbooks, but they found the keyboard a little smaller than other Netbooks they've tried out, with some wasted space around it. Another nugget, Toshiba is saying they will have a 3G version by the end of the year. For the life of me, I don't know what's keeping all the Netbook manufacturers from having this option right now. It only makes sense, unless they are focused on that old low price thing. The Ubuntu version of this is coming in at $418 or so US with the XP version at $483.

As an Amazon Associate I earn from qualifying purchases.