Toshiba Portégé M780 Tablet PC spotted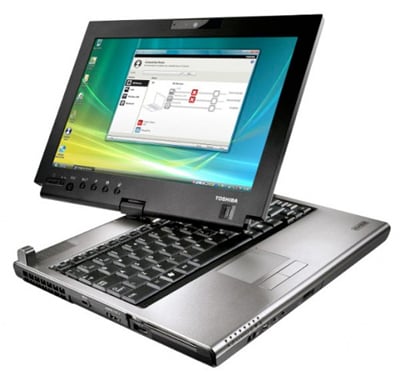 From the land of romance and pasta, NotebookItalia has the goods on the Toshiba Portégé M780 Tablet PC. A run through of the specs indicates it's a pretty straightforward refresh of the M750, which itself is little changed from the M700. Hot specs are the Intel Core i3 and i5 processor options.
It remains a business-class machine with 12.1″ display with LED backlight and 1200 x 800 resolution, presumably using the same active digitizer for pen input with optional multitouch. Other advanced features include two sleep-and-charge USB ports for charging USB devices while the machine is powered off, an eSATA port, fingerprint scanner, and accelerometer for screen rotation and shock detection that moves the head of the hard drive to a safe spot when an impact is detected, though that can be avoided with a SSD (a pricey option on the M750).
No word on pricing, but it's safe to assume it'll be in the same range as the M750. One thing I like about this consistency in design is that it should be compatible with all the Toshiba accessories I already have. Makes the Portégé an attractive upgrade option for me.
Edit: I let the Slashgear commentary and a half-forgotten memory get the better of me. The M750 has a single-touch option, not multi-touch. That half-memory was of a multi-touch prototype, which we learned from Shogmaster could be offered with pen or multi-touch, but not both. Raises the question of what sort of touch option will be offered on the M780. Thanks to Kevin Tofel for raising a question that jogged my memory.
Via Slashgear

As an Amazon Associate I earn from qualifying purchases.