Toshiba R400 With Wireless Dock An Expensive Option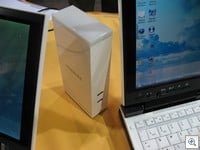 Get ready to check those credit card balances and swallow hard if you've been waiting for the Toshiba Wireless Dock for the Toshiba R400 Tablet PC. We knew these were aimed at the high end market but yikes! Part numbers and prices for the R400's that are compatible and include the Wireless Dock option include:
R400—S4834: $3079

R400—S4835: $3149

R400—S4933: $3999
On the Toshiba site you can find those part numbers now but without the Wireless Dock included (except for the one with the $3999 price tag) so I'm not sure if they all can be ordered with a dock as an option yet. And remember, not all R400's are compatible with the Wireless Dock.
Talk about Sticker Shock, it looks like the Wireless Dock will set you back another $850. Not really an impulse buy now is it. More info on those new units here.

As an Amazon Associate I earn from qualifying purchases.