Toshiba Thrive Review: A Middle Of The Road Tablet
The Toshiba Thrive may seem fashionably late to the Android Honeycomb tablet party, but considering the fate of certain other rushed-to-market tablets, perhaps there was a good reason for that. Toshiba endeavored to give users features missing from many other offerings in order to stand out, including full-size ports, a removable back cover, and a user-replaceable battery. However, there are some other, less positive, ways the Thrive stands out: such as being thicker and heavier than superstar tablets from Samsung and Apple.
With Toshiba laptops, the lack of visual panache is more than made up for by powerful machines that work hard and last a long time. Will that be the case with the Thrive?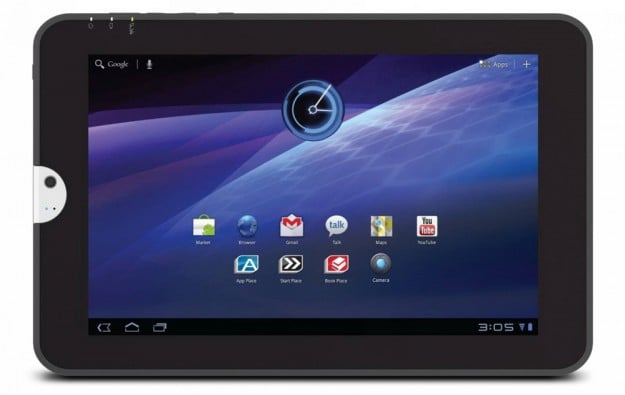 What's Good
Design
The feature that stands out here is the array of available ports. Beyond the mini USB and proprietary docking connector, the Thrive also includes a full sized USB port, full sized HDMI out, and a full sized SD card slot.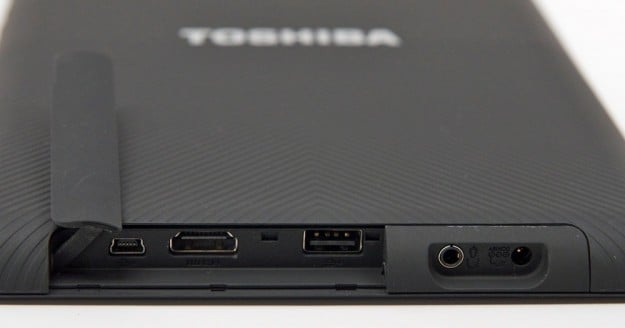 The raised, angled lines on the textured back cover remind me of Toshiba laptop lids – in particular, the NB series netbooks. Not only does this offer a pleasant tactile sensation, it also makes the tablet hard to drop. The default color is black, but owners can buy replacement backs in four different colors — Raspberry Fusion, Green Apple, Silvery Sky, Lavender Bliss — that cost $20 each.
This option isn't just cosmetic; users can replace the Thrive's battery themselves (yet another singular feature). Extras cost $89. While I don't see the need to buy an extra to carry around, this may be useful down the road if the battery degrades or just stops working.
Android
Toshiba didn't create a proprietary user interface/skin for the Thrive, so users experience stock Honeycomb Android 3.1, including the Tron-esque aesthetics. This is a good move as sometimes skins or other "enhancements" can affect performance. It's also a boon for those who prefer a pure Android experience.
Apps
There are quite a few pre-loaded apps. Of the five Toshiba-branded ones — App Place, Book Place, Media Player, Service Station, and File Manager — I found the utilities most useful.
Service Station provides tablet details, such as part and serial number, plus software update alerts. File Manager is my favorite of the lot because it looks and works the way I would expect it to as a computer user; not all file apps do. The icons at the top for on-board memory, SD card, and USB key make it easy to find files, and copy/pasting from one to the other is straightforward and easy.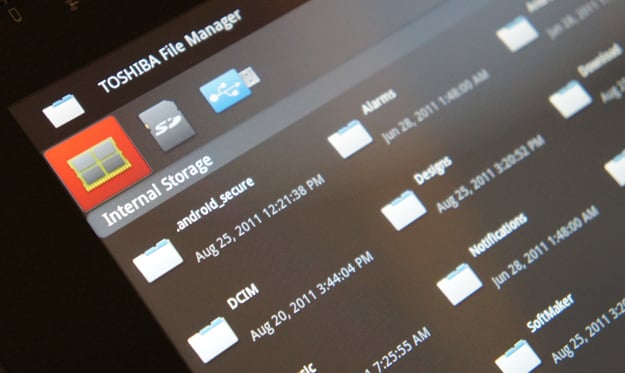 In addition to that, transferring files to internal storage was also pretty fast. We copied 53MB of MP3s to the device in a hair over 2 seconds.
What's OK
Size
In a world where tablets like the Apple iPad 2 and the Samsung Galaxy Tab 10.1 flaunt how skinny and slim and light they are, the 0.62-inch thick, 1.6 pound Thrive comes off looking and feeling chunky in comparison. However, consumers should remember that the super slimness of those tablets comes at a price: lack of ports. The Thrive does not have this problem.
Audio
Small speaker slits sit on the bottom edge of the Thrive and produce audio loud enough to be heard over medium background noise (such as a high-powered fan) with the tablet's audio enhancements on. However, you're not going to get great quality, which is to be expected from a device like this.
Listening to music reveals a bias toward treble and audio on the high end, which comes off as tinny. The SRS audio enhancements (accessible via the Multimedia settings) move the quality up from mediocre to tolerable coming from the speakers. But given how small they are, you can't expect much. When I attached the Thrive to external speakers the resulting audio came through better, but it still isn't as well-rounded as I like.
Cameras
Neither the 5MP camera on the back or the 2MP one on the front of the device produced super impressive pictures or video, which is par for the course with tablets.
Due to the camera's placement (on the short side of the Thrive), it's difficult to center subjects in the frame. Plus, if you're snapping shots of people, they will likely look at you or at the center of the tablet, not the camera. Placement also forced us to modify how we held the tablet, since our finger kept accidentally covering the lens.
Still images have noticeable noise in indoor shots, even when we fiddled with white balance settings. Outside shots were much better, showing deep colors and nice contrast.
Video showed the same decent color palette, though even slow movement made the fuzzy edges even fuzzier. The front-facing camera works well enough for video chats over Google Talk.
Performance
Inside, the Thrive has the same 1-GHz Nvidia Tegra 2 CPU and 1GB of RAM as other Honeycomb tablets. With Android 3.1 I didn't experience any rampant app crashing. I did notice that the tablet sometimes experienced bouts of slowness the more apps I opened and left running, and the longer it went without a fresh reboot. When at peak performance it ran games, full HD video and demanding apps quickly.
The Thrive lasted for 6 hours and 52 minutes on the LAPTOP Battery Test for Android, which continually surfs the web via Wi-Fi with the display at 40%. This indicates that it will last all day with on and off use, and my experience bears this out. By the end of the day the battery would be between 30% and 15%; lower if I'd spent more than an hour playing games. When idle, the tablet sips energy, making it possible to have 50% battery life after two days of not turning it on.
Price Range
There are three Thirve models, all Wi-Fi only: 8GB of internal storage costs $399 (down from $429), 16GB costs $429, and 32GB costs $499.
These prices beat out the Apple iPad 2 and Samsung Galaxy Tab 10.1 Wi-Fi versions, both of which cost $499 for 16GB of storage. However, the ASUS Eee Pad Transformer starts at $399 for 16GB if you don't include the dock.
What's Bad
Design
At 10.75-inches wide the Thrive has a bigger horizontal footprint than most other Honeycomb tablets thanks to a wide bezel. The elongated shape throws off the balance when holding it in portrait mode.
The power button sits on the top edge, flush with the device, which makes it awkward to press most of the time. Plus, it's harder to find by feel.

When I pressed down on the back, there was a noticeable amount of give, which didn't fill me with confidence on the sturdiness of the design. I had a hard time prying the back cover off, just like other reviewers. Given the alarming snap it made when I finally succeeded, I wouldn't feel comfortable doing it more than a couple of times if I owned the unit.
Display
The 10.1-inch, 1280 x 800 resolution display picks up fingerprint smudges too easily. All touchscreens get dirty, but the Thrive's didn't eschew prints for as long as I'd like. This was apparent when I was trying to play games and led to less accurate taps.
The display doesn't have very wide viewing angles. When watching videos (especially dark scenes) and playing games the issue was very apparent. Light bouncing off the glossy screen also got in the way when in areas with fluorescent lights overhead.
Apps and Media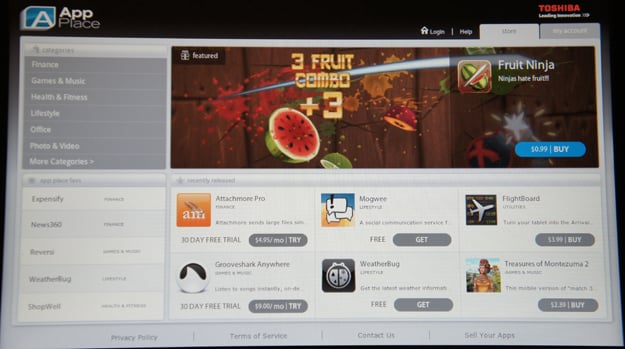 The ongoing problem with Honeycomb tablets is the small number of apps made to work specifically at the larger screen size. There are still less than 200, though that doesn't reflect the number that will work on any screen size. But with the other apps you won't know until you try them whether they'll expand (and still look the same) or get stuck in a small window.
As of this review, the Android Market on the Thrive hasn't been updated to include the video store, nor is the Video app available. Google Music beta is pre-loaded, though. Toshiba doesn't provide customers with any media buying options, so you're on your own when it comes to finding and loading music and video. This is a big drawback, since getting video on Honeycomb tablets requires more rigamarole than should be necessary.
Toshiba's App Place and Book Place duplicate services that don't need duplicating. The Toshiba eBook store doesn't have as vast a selection as Amazon, Barnes & Noble, or Google, and App Place has dozens of apps, not thousands.
Conclusion
The Toshiba Thrive is a quintessential Toshiba product. Just like the company's laptops, it sacrifices some aesthetic concerns for practical ones. It's not the best-looking or thinnest tablet you'll come across, but it's one of the few that includes full-size ports that don't require specialized cables or adapters and color customization. But in straddling the line between affordability and a precision design, this tablet falls closer to the former than the latter.
Then there's that hard to pin down or describe sensation of a tablet just feeling "right" in your hands. A combination of the weight and the length tips the Thrive a little too much on the wrong end of that feeling.
Though the Thrive does have some stand out features, it still strikes me as a middle of the road tablet choice. That's not necessarily bad, because plenty of consumers are middle of the road types. If you're looking for a tablet that oozes style and sleek design, you're looking for the Samsung Galaxy Tab 10.1 or the ASUS Eee Pad Transformer (sans dock). If more practical considerations rule your decision making, the Thrive wins in some key areas.

As an Amazon Associate I earn from qualifying purchases.