Touch Sensitive Products Dominate CES Unveiled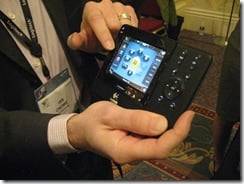 Tonight, Rob, Sierra and I were at CES Unveiled and noticed that a significant number of manufacturers are incorporating touch technology in their latest and greatest releases. It seemed as though you couldn't walk around the Unveiled show floor without being within eyesight of another touch sensitive product. The usual suspects are all in on the touchy fun: MSI has their new NetOn touchscreen all-in-one desktop computer, Asus is expanding their EEE PC line with resistive touchscreen tablets in both 8.9″ and 10″ varieties, Lenovo has their tablet with touch, Logitech has their touch-based universal remote… and the list goes on and on.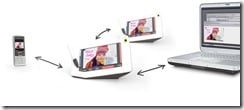 Another company unveiling a new line of touch-based devices is TTP with their Wayve message device. The Wayve is a multi-function message center. You can write little notes with the included stylus and send it to another Wayve unit elsewhere in the house, take a picture and send it to a cell phone, or email an altered picture to a computer. Currently, the Wayve has wi-fi connectivity but TTP sees the potential for making this device a truly mobile family communicator with the addition of a GSM radio.
Touch technology will probably be this year's great unknown, much like how the netbook phenomenon redefined the mobile space in 2008. One of the most common things I heard tonight at these touch manufacturers' booths was how the touch experience has really changed how people interact with the technology around them.
Here is a quick video demo of the Wayve in action.

As an Amazon Associate I earn from qualifying purchases.