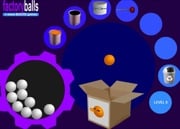 Ben at UMPCPortal has started a series highlighting games that are touch screen friendly. His first installment showed off a nifty little game called Factory Balls. His second installment features a game called, get this, World of Goo, which is available on the PC, Mac OSX and the Nintendo Wii.
The basis of the game involves creating structures, out of animated balls of goo, to reach the goal. The game is based on a convincing physics system so make sure that you goo structures don't topple over! The game is $20 for PC, but there is a demo version

I may have to get a touch screen device just to try out some of these games. In the meantime, I'll be following Ben's series.

As an Amazon Associate I earn from qualifying purchases.