What Does Samsung's TouchWiz Bring To the Galaxy Tab 10.1?
The long-anticipated TouchWix UI has finally come to the 10-inch Samsung Galaxy Tab. Yesterday the press (and some lucky New Yorkers) got the update early, but tomorrow over-the-air updates will start to roll out for everyone else. The question of the day: will TouchWiz make the galaxy Tab better, or will it make users wish they'd never pressed Accept when the update notification appeared?
Does it tip the scales of to buy/not to buy? That depends on what kind of Android lover you are. If you aren't so hot on stock Honeycomb, wish for better fonts, and are tired of squinting at every dialogue box, you'll dig this skin. If you're an Android purist, it'll make you less happy. Especially since you won't be able to get rid of it.
What is TouchWiz, exactly? For the uninitiated, it's a user interface skin created by Samsung that sits on top of Android. There are versions of TouchWiz on some Samsung phones, but the one on the Tab was designed specifically for Honeycomb and large screens.
This skin adds some cosmetic touches to Honeycomb — such as larger fonts and a white background in the Settings menu, stylized pop-up notifications, a different font in the notification bar — and also includes some nice widgets. The widgets themselves, part of Samsung's LivePanels, were designed to make the Home screens feel magazine-esque. They sit closer together than normal Honeycomb widgets and have fairly nice style elements.
One of the big things TouchWiz adds are Mini Apps, which you can access by tapping the arrow icon in the middle of the screen at the bottom. This brings up a Mini Apps tray featuring 6 apps Samsung says are "commonly used" and is available no matter what app you're using or screen you're in. While I do bring up my memo pad and music player a lot, I rarely have a need for quick access to the World Clock. I might be weird, though.

I'm more disappointed than I can say that users can't add their own apps to this Mini App tray, but I understand why this is so. The Mini apps aren't just normal apps, they're apps that sit on top of others. This behavior is familiar to anyone who uses Windows or Mac OS, but in Android this doesn't happen. Yes, the OS does allow multitasking, but you usually see one app/window at a time. They don't overlay each other. TouchWiz adds that element of overlaid apps to good effect. Still, I want my own apps in that tray.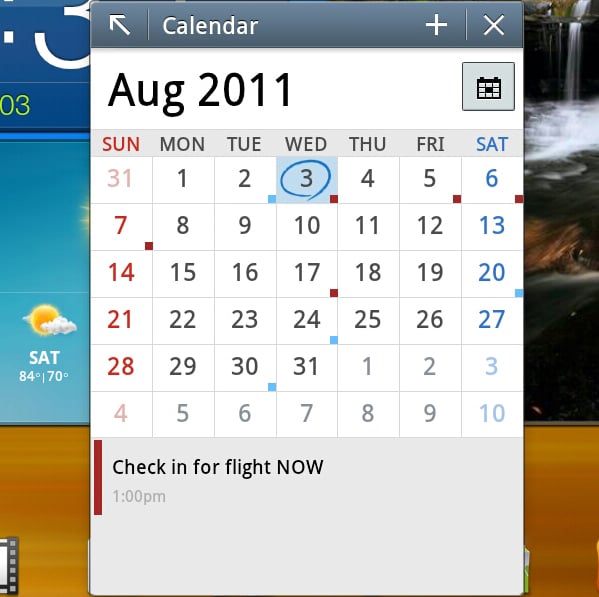 Other than the Mini Apps thing, the new widgets, and the cosmetic enhancements, TouchWiz doesn't get in your face too much. This is a good thing. There are many proprietary skins on the market — your Motoblur, your HTC Sense, etc. Some of them are awesome and you appreciate the extra functionality they bring (Sense); some of them are ugly and make you want to erase their existence (Motoblur). The mark of a good skin is that it enhances without being annoying. If you're lucky, it also makes Android easier to use. TouchWiz accomplishes that goal.
The other nice thing is, with the exception of the Mini Apps tray, you can chuck most of TouchWiz's enhancements if you don't want to use them. The Live Panel widgets can all be trashed as easily as they're rearranged.
Galaxy Tab users don't have to accept the update when it comes through. That means they won't be able to get any other OTA updates, either, including the one to Android 3.2.
I don't think that TouchWiz makes the Galaxy Tab a vastly better tablet. Let's say the skin adds to the Tab's manifold charms. Of course, this is based on half a day's use. We'll see how I and the other Tab owners out there feel in a week's time.

As an Amazon Associate I earn from qualifying purchases.