Transformer Prime Gets Another Speculated Release Date
The saga over the official release date for Asus's next-generation Eee Pad Transformer Prime tablet, which promises quad-core Tegra 3 processing power, is getting to quite the soap opera. Originally pegged for a November 28th release, the Transformer Prime was later anticipated for December 9th. Now, Gamestop's computer inventory system has it that the Transformer Prime may launch on December 19. Hopefully, the launch date doesn't slip further, else Christmas shoppers may have to give their recipients an IOU or make other contingency gift giving plans.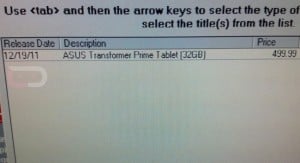 Via: Droid-life

As an Amazon Associate I earn from qualifying purchases.