40% Off iPad and Smartphone Travel Clothing from SCOTTEVEST
SCOTTEVEST is offering 40% off eight of its items, including vests and jackets designed to carry iPads and smartphones. SCOTTEVEST's Last Sale of 2011 promotion is a thank you for customers and features current travel clothing, not closeouts.
SCOTTEVEST (SeV) clothing has more than enough pockets to carry all of your mobile gear and accessories. For many geeks, SeV vests and jackets replaces gear bags. Wearing your gadgets rather than carrying them can be a real advantage when commuting or traveling.
I own several SeV items and one of my favorites is the Outback jacket. It's designed to carry both gadgets and weapons, though I don't really have a need for carrying the later. In the video above you can see what you can stuff in just two of its many pockets. It's on sale for $90 after a 40% discount.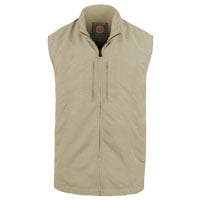 The lightweight vests are the most affordable option at $60 after the 40% discount. The vest has an inner pocket that can fit an iPad or compact notebook.  The vest has a clear inner pocket for your smartphone and an headphone management system to keep things organized. It's light enough to wear in the sun and is much more comfortable than lugging around a backpack on a hot day.
For those who want to avoid baggage fees, SeV offers a trench coat that can hold the same payload as your typical carry-on bag. I'm not the trench coat type, but if you're a frequent flyer this might be worth the $135 investment as the cost can quickly be offset by the money you save on baggage fees.
You can head over to SCOTTEVEST.com to see more deals. Remember to enter coupon code LASTSALE2011 to when ordering. The sale ends on September 26.