Traveling With Delta and In-Flight Wi-Fi
Today I'm once again on a plane headed across the country to attend a conference. I prefer to fly with Virgin America because their fleet has free Wi-Fi and a few other sweet amenities. (Though they can keep their Chromebooks…) This time I'm flying Delta, though, and luckily my plane is connected.
Delta has increased the number of planes equipped with Wi-Fi (over 2,200 flights daily) to the point where, anytime I book a flight that lasts 2 hours or more, I can usually get one with this service. GoGo provides the wireless on Delta, which made it easy to sign in and get started since my credit card is saved in my profile.
In-flight Wi-Fi is very useful if you need to get work done on the plane. For a 5+ hour cross-country flight like this, it would be silly for me not to take advantage of it. But at $12.95, it's an expensive luxury.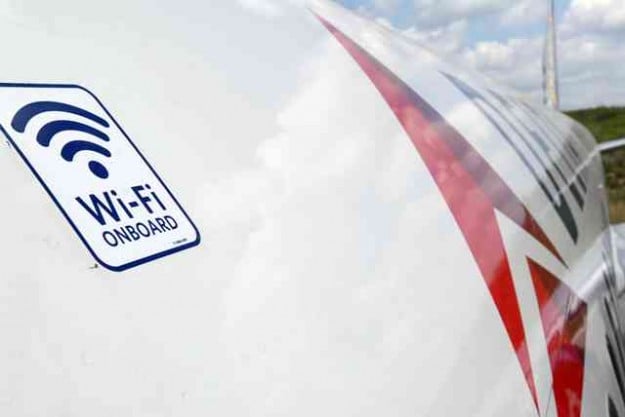 The price hearkens back to the days when airports would charge you that much for daily access. Some still do, you say? That's why Gozer made mobile hotspots and broadband dongles. Frequent travelers can now avoid those odious fees in the terminal, but not in the air. Using a mobile hotspot at 30,000 feet is probably not possible and certainly against FAA rules.
For all the priceyness of it, in-flight Wi-Fi is pretty slow. I did a couple of runs on SpeedTest.net and got 0.53 Mbps down and 0.26 Mbps up. Not stunning. While working on posts and downloading images I noticed this sluggishness, but it didn't really impede me. However, streaming video was less than successful.
The slow speeds are due to the fact that not only am I sharing the Wi-Fi with the other folks on this plane, but also sharing it with any other planes nearby using the same in-flight service. That's why sometimes it slows to a crawl when you approach major airports.
This trip I encountered a new problem: for about 30 minutes the Wi-Fi disappeared. Something wrong with the router, I suppose. I took a nap while the flight crew handled it. Still, for $13 is it too much to expect uptime for my entire ride?
In the end, in-flight Wi-Fi is good for doing simple things on the web — surfing, reading blogs, getting some work done, etc. If you try to use it for entertainment purposes, you'll likely not feel that your money was well-spent. Makes me wonder what will happen when the in-flight entertainment options consist only of what you can stream online.
If you're planning to fly Delta and know that your flight has Wi-Fi, save 10% by buying it ahead of time. (Also, bring a tablet. Even a netbook doesn't do so well on these tray tables and once the person in front of you reclines? Forget it.)

As an Amazon Associate I earn from qualifying purchases.