Trio of OtterBox Cases Arrive for the HTC EVO 3D
OtterBox has announced that it is released three solid case options for Sprint's newly released WiMax smartphone, the HTC EVO 3D, with the Defender Series Case, Commuter Series Case, and Impact Series Case now available to EVO 3D owners.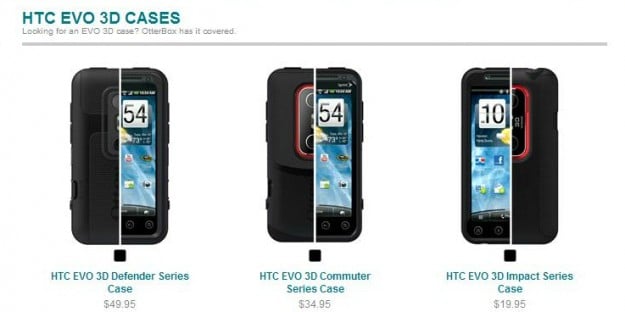 We absolutely love OtterBox's iPhone 4 case and we see the HTC EVO 3D cases being no different in terms of quality. The first option is the Defender Series Case which has three layers with the first being a built-in screen protector, the second hard polycarbonate shell and the third a durable silicone skin. If you're prone to dropping your phone, this is certainly a remedy to at least consider. It also comes with a holster-style swivel belt-clip.
The Defender Series Case will run you $50.
The second option is the basic Impact Series case which brings a single layer silicone skin with inner "honeycomb" coring which will negate any blows that your phone might take. This is also the cheapest option and costs a mere $20.
Last but not least is the Commuter Series Case which is a less-bulky option for EVO 3D owners. The Commuter Series comes with a silicone under-layer and also offers a thin polycarbonate shell so as to make it easier to pull out of your pocket or purse. It also offers plugs for your smartphones ports so they don't collect dust. This option costs $35 through OtterBox.
If you own an HTC EVO 3D and you're interested in keeping it safe, you can find all three cases for sale right here.