Tritton Katana HD 7.1 Has Great Sound, Works on Everything
Gaming accessories company Mad Catz delivered what some considered the best sound quality possible with its Detonator Wireless Headphones a few years ago. At CES 2016, the company is showing off a new headset that's able to top the audio quality from that gaming headset. Even better, it should be compatible with every video game console and PC setup that buyers encounter. The headphones are called the Tritton Katana HD 7.1 Headset and they're available for pre-order right now.
The Tritton Katana HD 7.1 Headset weren't revealed at the Consumer Electronics Show in Las Vegas, but they are being shown their all week. The company is planning to ship-out pre-orders of the gaming headset this coming March for $249.99.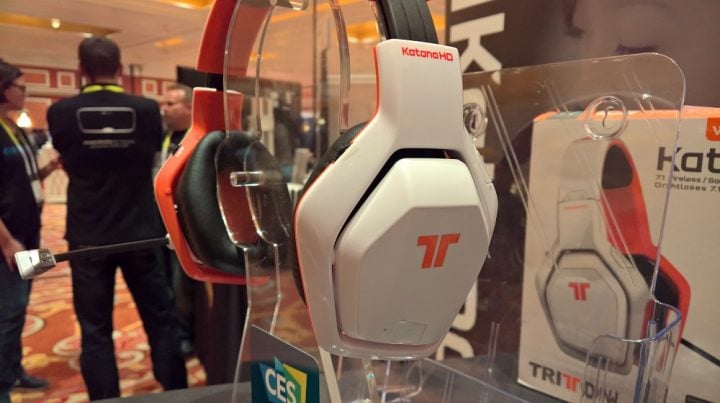 The company says that the Tritton Katana HD 7.1 Headset is able to best the audio quality of other gaming headsets and its previous offerings thanks to a dedicated wireless box that has an HDMI port. Instead of relying on infrared audio to deliver compressed sound, the Tritton Katana HD 7.1 Headset pulls down audio through that HDMI port. Mad Catz says that there's no compression involved with the base's sound transmission. Because it does this, the audio that it broadcasts directly to the completely wireless headphones is uncompressed. Relying on HDMI also means that consoles, Blu-ray players and more all work with the headset.
The Tritton Katana HD 7.1 Headset comes in either black or white, with orange accents that add some color. On the back of the wireless display station is also a Micro-USB port and Line-In port in case buyers own devices that don't have HDMI out. Unfortunately, when pared with Microsoft's Xbox One entertainment console, you need to have a cable connected to the controller for game chat. The PS4 supports Bluetooth technology, meaning there's no cable involved.

As an Amazon Associate I earn from qualifying purchases.