Tronsmart Ara X5 Review: Windows 10 Takes on Apple TV
When Apple released their new Apple TV with the ability to install apps and play games, things got a lot harder for devices like the Tronsmart Ara X5. It's a small set-top TV box running Windows 10. Can Windows 10 compete with the likes of Apple TV, Roku or the Amazon Fire TV?
The Tronsmart Ara X5 ($159.99 on Amazon) brings a full Windows 10 computer to your TV in a small box that takes up very little space. It runs on an Intel Cherry Trail Z8300 Quad Core 1.8Ghz processor with a measly 2GB of RAM and only 32GB of built-in flash storage. Those specs make it quiet, but can it play large 1080p videos or even handle graphics-rich games? How well does it handle your productivity needs?
Please see our review of the Tronsmart Orion R68 Android set-top box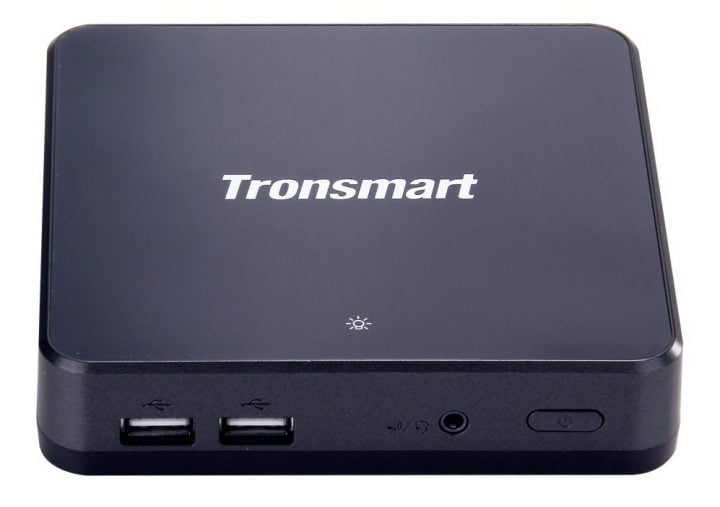 Tronsmart Ara X5 Performance
Overall the Tronsmart Ara X5 Windows 10 set-top box runs reasonably well considering the limited system RAM. It's not a super fast computer, but boots quickly thanks to the eMMC flash storage built-in. It's not as fast as an SSD, but better than a traditional spinning hard drive. To hit their goal of a low-cost TV box, they cut corners on processor, memory and storage space. However, the operating system responds to input without delay and runs smoothly most of the time.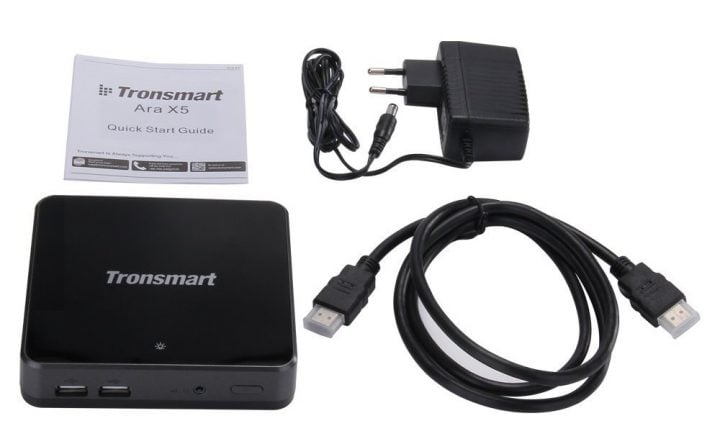 We suspect most will want to use the Tronsmart Ara X5 as a set-top box for streaming video or music. Users can add some light gaming to the mix. It can handle all of these without any trouble. Some network content isn't available on devices like a Roku or Apple TV without buying it from a store. The networks will let users stream recent episodes on their sites, but you'll need a regular computer to do this. That's where the Tronsmart Ara X5 benefits users compared to traditional set-top boxes.
Wi-Fi speeds suffered a little. It comes with 802.11a/b/g/n compatible Wi-Fi, but our speed tests and real world tests showed some lag. While downloading Windows updates the first time I hooked up the system, everything slowed to a crawl. Our Speedtest.net download speeds struggled at around 3.5Mbps at first and even stalled on the first try. After rebooting the router and computer, it averaged closer to 12 Mbps. However, over the wired 10/100 Ethernet connection things hummed along at a fast pace. Try to connect to the router via Ethernet instead of the slow Wi-Fi built-in. Or get a faster USB to 802.11ac Wi-Fi adapter like one that TP-Link makes ($29 on Amazon).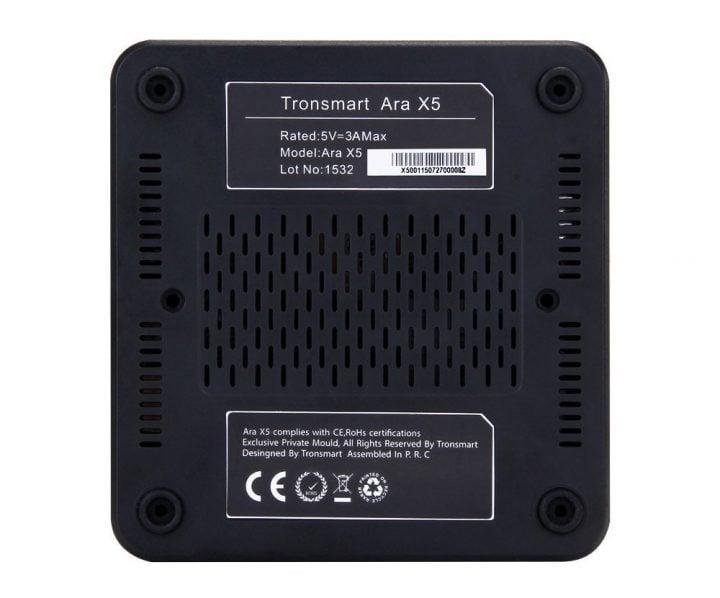 We also experienced a problem with the Windows Store. It crashed the minute I clicked on any app to open the app's screen. I even tried downloading apps from my library and it still failed. This went away after resetting the computer to factory specs.
With the limited space on the internal storage, it's necessary to use Windows Store Office apps like Word, Excel, PowerPoint and OneNote Mobile. A full version of Office will fit, but it will eat up too much of the 32GB of internal storage. Also the system can't handle many regular Windows games so find some in the Store.
Media playback on the Tronsmart Ara X5 handles all the standard formats for HD video, nearly all mainstream audio and picture file formats. The box did a nice job of playing video files and music.
Tronsmart Ara X5 Design
Like most set-top streaming boxes, the Tronsmart comes in a small black plastic box that reminds me of the Amazon Fire TV. It measures 4.65 in x 4.47 in x 1.06, so the square box won't take up much room in an entertainment center. Users can even mount it on the back of their TV if they get a mounting system of some kind.
On the front of the Tronsmart Ara X5 there's a pair of USB 2.0 port, the headphone/mic combo jack and the system power button.
The back holds the AC connector, a 10/100MB Ethernet LAN port, one HDMI port. In addition there's a USB 3.0 port on the back, great for faster storage like a USB 3.0 flash drive or hard drive. Finally, a micro-SD card slot rounds out the back ports and connections.
The two sides don't hold any ports or connectors. On top, in addition to the Tronsmart logo, there's an LED indicator that tells the user when their Tronsmart Ara X5 is on.
The box feels like it's a solidly built device. It's not heavy and takes up little space.
Tronsmart Ara X5 Conclusion
Despite a problem with stability at first, the Tronsmart Ara X5 works well as both a set-top box for enjoying entertainment media and light gaming. It also works fine as a simple productivity tool with the Microsoft mobile versions of Word, Excel, and PowerPoint. It would fit well in an educational setting where people often show PowerPoint presentations but occasionally need to play videos or music. At only $165 on Amazon it's a compelling option.
Should you opt for the Tronsmart Ara X5 over something like the Apple TV, a Roku box, or the NVIDIA Shield TV? That depends on your usage. For streaming mainstream services like Netflix and Hulu, I'd go with one of the others. For gamers, the NVIDIA Shield TV is the best set-top box that's not a gaming console. However, for use as a media device that's also able to handle light productivity, the Tronsmart Ara X5 makes for a nice option.

As an Amazon Associate I earn from qualifying purchases.