Try the Apple Watch Now Before the Apple Watch Event
The Apple Watch will release at some point next month, but if you want to try it out now before you buy it, there are a couple of websites that you should check out.
If you want to see some of the apps in action that will launch alongside the Apple Watch, the folks from AppAdvice launched a new website that allows users to experience a handful of Apple Watch apps right in their web browser.
Apps to check out include Twitter, Todoist, Facebook, Apple Maps, Pinterest and MLB At Bat. You don't get full interaction with the app, but you do get to see what a notification looks like and what the app looks like when a "Glance" pops up.
Of course, this isn't something that you should completely rely on, as the user interface may change slightly when the Apple Watch eventually releases, but it's a good example of what to expect overall.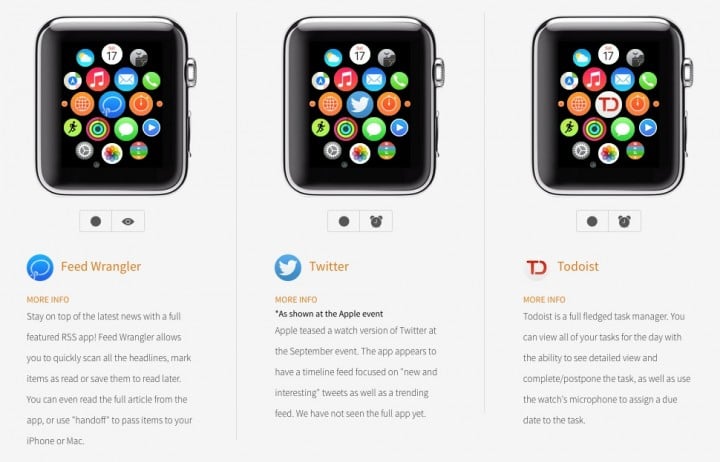 Another new website allows you to create the Apple Watch of your dreams by choosing the case and the watch band. You can choose between steel, aluminum, or gold with different colors for each, and then choose the watch band that you like. The combinations are almost limitless, with almost 100 different combination choices that you can choose from.
Of course, these aren't the first interactive websites to offer a glimpse at what to expect from the Apple Watch. A website from earlier this year also allowed you to play around with Apple Watch apps in your browser, but like this new website, interaction was limited.
While it isn't the best demo that we could hope for, it can at least give you some idea of how the Apple Watch will work and how you'll be navigating around the apps and menus once you buy it.
While the Apple Watch takes a handful of cues from other iOS devices, it's a wearable that practically redefines iOS in its own way. For example, instead of using pinch-to-zoom on the tiny touchscreen on the Apple Watch, you use a small dial that you turn in order to zoom in and out while viewing maps or other content. Pressing the dial, which Apple calls the "digital crown," will take you back to the home screen.
The user interface is still very iOS-like, though: you swipe to get different pieces of information, and swiping up from the bottom of the screen reveals customizable pieces of information, such as widgets. You can also look at your calendar from here and access your music.
The touch screen is a rather unique one. For starters, it uses sapphire glass, which was rumored in the past, but the display also senses pressure, which means that it can tell the difference between a "tap" and a "press," and it's like the difference between a left-click and right-click on a computer mouse.
The Apple Watch is quite the fitness device, as it has a myriad of sensors on the bottom to record your heart rate and other vitals, and it borrows the GPS signal from your iPhone for running or cycling apps to use. It looks like it'll track your fitness activities better than most wearable devices can, but we'll have to test it out first before we make such claims.
What's perhaps most impressive is that the Apple Watch will analyze the text of a message and will provide you with pre-determined answers to allow you to easily answer back with just a tap. Otherwise, you can talk to the device and have it translate that into text.
Other features include the ability to tweet from the Apple Watch and even unlock hotel room doors with a quick wave at select SPG hotels. A ton of apps are getting support for the device, so you'll be able to do a ton of stuff, like look up scores, browse Pinterest and even adjust your Nest thermostat. You can also use it to control your Apple TV or use it as a viewfinder for the iPhone camera.