Trygger iPhone 4S Camera Case Adds Polarizing Filter to iPhone
There's no doubt that the iPhone 4S has a great camera, but most of the camera accessories and lens adapters are easy to lose.
The Trygger iPhone 4S and iPhone 4 case is offers a simple solution to help create better photographs on the iPhone – a sliding polarizing filter.
The filter is built into the case so you won't lose it, and it is adjustable to help take better photos on the iPhone.
What is a polarizing filter you ask? Simply put, a polarizing filter changes the way your camera sees light. This helps deliver more vibrant photos and can solve some issues with glare, contrast and reflections. Many professional photographers use these on their DSLR's, and now there will soon be an easy way to use one on the iPhone 4S and the iPhone 4.

The Trygger iPhone 4S camera case is on Kickstarter with a limited number of $35 reward cases available, and many $40 options, both of which offer a discount over retail.
The case looks pretty impressive, as do the sample photos which show how a polarizing filter changes the look of a photo taken with the iPhone. Check out the photo of the dock below. Pay special attention to the color of the sky, water and dock as well as glare off the water.
Trygger says that this photo is un-edited, which shows off what a filter can do. Digital Photography School suggests using a polarizing filter to change the vibrancy of photos. According to Darren Rowse, the filter has the biggest effect on the following,
Water – cut through reflections and change the color of water.
Sky – cut through smog and adjust the color of the sky.
Color – adjust the filter for greener greens in plants and trees.
Reflections – Can help with shooting photos through glass and when shooting shiny objects.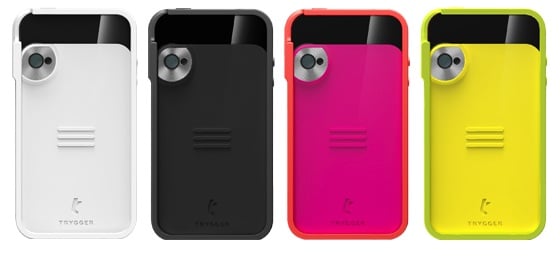 The Trygger iPhone 4S and iPhone 4 case comes in a wide array of color options and should be ready for delivery in July 2012.

As an Amazon Associate I earn from qualifying purchases.