Turn Any Laptop Into A Tablet With The Hanwha Duo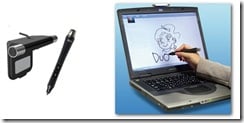 Do you find yourself wishing your notebook computer was sometimes a tablet? Have you been putting off getting a tablet because of the tradeoffs? Are JKK's and Chippy's touchscreen modifications to standard netbooks something you've always wanted to do but weren't comfortable doing? If you answered "yes" to these questions, Hanwha Japan's Duo just might have the plug-and-play solution you've been waiting for. Akihabaranews.com scooped this neat little device from Hanwha Japan that allows any notebook computer to have some semblance of inking capability. The device sits atop the notebook lid, much like a webcam does, and uses infrared and ultrasonic waves technology to capture your movements. It is unclear whether the device only works for "doodling" or if you can actually use the device as an HID to replace the mouse. In my experience with convertible tablets, however, inking/drawing/doodling for prolonged periods of time in notebook mode is remarkably uncomfortable. Don't get me wrong, using the pen to select, scroll, or for short and quick inputs is great in notebook mode and is actually faster than using the touchpoint or touchpad, but I don't recommend it for prolonged use.
Moreover, it looks like the Duo also supports real ink-on-paper capabilities that directly translates what you write or draw on paper to your computer screen. Simply place the sensor on a desk and write away using the proprietary pen. Pretty neat technology, especially for $101 (if and when it comes Stateside).
Via Akihabaranews.com