Turn down your screen brightness before sleeping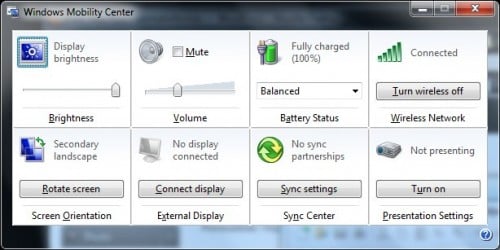 Sitting in bed with my Tablet PC, I came across an article from the LA Times (via Gizmodo) that explained why back-lit screens can mess with your sleep more than displays like e-ink that rely on ambient light.  The examples cited are the iPad and Kindle, respectively, but it applies to all devices with displays, such as the one I'm inking on now. What to do?  Well, the obvious solution is to turn down the screen brightness.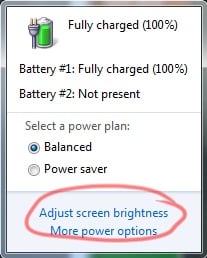 For the iPad and iPhone, brightness control is found in settings. It would be nice if there was a one-tap way to get to it (I'd use it all the time if there was), but I believe that's not accessible to developers. In Windows 7, there's the Windows Mobility Center, accessible through the Control Panel or shortcut button, hardware or software, depending on your Tablet or notebook. Screen brightness is also accessible via the power/battery icon in the taskbar, unless you've turned it off.

If you're a Windows Gadget user, there's a free and simple gadget for screen brightness control. Display Brightness Gadget is just a plain meter that switches brightness with a tap. Needed to remove then add after initial installation for it to work, but it works fine for me now. Doesn't work with desktop monitors, but I don't think those are suitable for use in bed.
Regardless of what device you use, back-lit or ambient-lit, turning down the lights before sleep should help make it more restful. Goodnight.

This article may contain affiliate links. Click here for more details.