Turntable.fm for iPhone Now Available in the App Store
The moment many of you have been waiting for has arrived. Turntable.fm, the social DJing platform that has taken the music world by storm, is now available for consumption on the iTunes App Store for iPhone, iPod touch and iPad users. No, there is no standalone iPad application yet so those of you who have been craving it on your iPad are just going to have to wait for a dedicated app to arrive.
For those unfamiliar, Turntable.fm allows you to share music with your friends. You and your friends, or randoms, take turns DJing in a room, playing songs that other people can here. It's a fun way to socialize and better yet, it's a great way to discover music.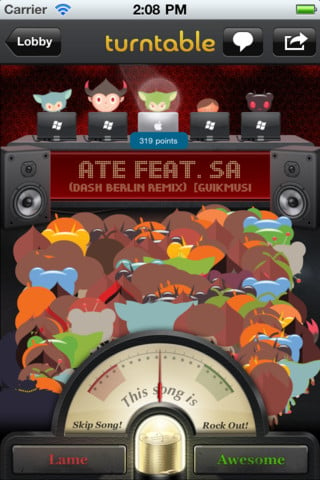 Those in the crowd can vote for or against the song and if the song receives too many lame votes, it's skipped. It's really a neat concept and it's no surprise that the public has embraced it.
As for the iPhone app, it's essentially the website ported into an app for those of you who want to take Turntable.fm with you on-the-go.
If you're interested, you can find the app here.
No word yet on an Android application but we'd be shocked if one wasn't in the works.

This article may contain affiliate links. Click here for more details.