Tweet Boasts of New Nokia N9 Twitter Widget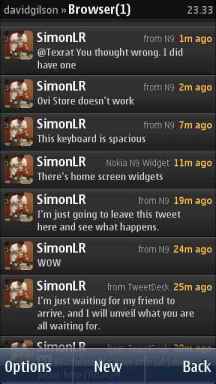 Former writer @SimonLR from The Mobile Fanatics has posted some preliminary experiences he has with an upcoming Nokia N9 smartphone, which according to past rumors and leaks may be similar to the Nokia E7 or N8 but running on the MeeGo operating system instead of Symbian. According to Simon's tweets, we learn that the "keyboard is spacious" and there are "home screen widgets." In fact, Simon was positive with the Nokia N9's user interface, saying "Android and iOS don't have shit on this. Not even close" and even going as far as advising Nokia fans to "ave your money for the next few months," presumably to get the N9.
@SimonLR was tweeting from a Nokia N9 using a live widget of some sort on the device.
The Mobile Fanatics Editor-in-Chief Mike Macias has responded to @SimonLR on Twitter saying: "I don't know if @SimonLR got his hands on N9 today but don't think he'd kid. Simon resigned from @mobile_fanatics and TMF doesn't have it."
Given the positive news about the user experience on the Nokia N9 and that the interface is superior to Android and iOS from @SimonLR's point of view, we're beginning to see more news about what Nokia is working on for the user experience layer on MeeGo. The company has hinted that MeeGo that will be shipping on smartphones will be different from what we're seeing today, and that the company is exploring a design paradigm similar to Windows Phone 7 to make it efficient for users to look up information, but to also be able to return to their normal lives without their eyes glued to their mobile screen.
Via: My Nokia Blog