Tweet to win an Apple Tablet! Maybe! If it Exists!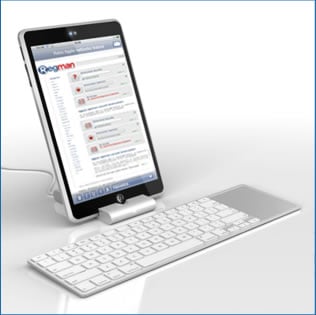 Man oh man, am I excited about this contest being held by German property-recovery service, Regman (translated by Google Translate). Just follow them on Twitter, send a special tweet, and you could win the new Apple Tablet! Strong emphasis on "could" because they don't know if it exists or not! So excited! Look at all the exclamation points!
Silliness aside for a moment (or three sentences, whichever comes first), they're not actually promising the prize will be the mythic Apple tablet. Rather, they're offering up whatever the "next big thing" from Apple will be. They'll look at the first major Apple event of 2010, determine which product is the NBT, and give that away. Could be a tablet. Could be a Macbook. Could be an Apple TV with Blu-Ray. Could be a keyboard with touchpad. Could be a Mighty Mouse in the old "hockey puck" shape. Could be a $10 iTunes gift card with barcode that's read by your webcam (that's actually not a bad idea).
No mention on whether the contest is limited to residents of Germany, but considering these guys are giving away a prize that has yet to be determined, I'm guessing they aren't sticklers on details. I might have to drop the Kutch from my Twitter list to make room for them, but he's not offering a fabulous prize that may or may not exist.
Via Macworld