Twelve South HiRise Review: Excellent Apple Watch Stand
The Twelve South HiRise Apple Watch stand looks great, stays in place when you pick up the Apple Watch and keeps my night stand organized. In short this $50 Apple Watch stand delivers everything an Apple Watch owner needs and looks good doing it.
Charging is an essential part of the Apple Watch experience and I loath fumbling with cords on my nightstand, especially after a long day when my wife is already asleep. Unlike the various iPhone and headphone charging cables that end up falling between the bed and the nightstand the Twelve South HiRise for Apple Watch keeps the charger where I need it, right on the edge of my night stand.
The [easyazon_link identifier="B00UIT6PMA" locale="US" tag="gbm-ea-20″]Twelve South HiRise for Apple Watch[/easyazon_link] assembles in less than five minutes with a single included screw that keeps the Apple Watch mount attached to the base. You need to connect your own Apple Watch Charger to the HiRise, but this also takes just a minute. If you travel, you'll probably want to leave the Twelve South HiRise at home, but you can remove your charging cable in just a few seconds.
Twelve South makes the HiRise for Apple Watch from metal, with a soft grip base that keeps it in place on my wood nightstand or on my composite desk. It does not suction to it like some wireless chargers and there is no heavy metal addition to add a lot of weight. Even though the HiRise for Apple Watch is lightweight it stays in place when set the watch in to charge and when I grab my Apple Watch in the morning.
Twelve South covers the edges and surfaces that the Apple Watch will touch with silicon so that you don't need to worry about scratches to your Apple Watch or your watch bands. The stand holds the Apple Watch in portrait mode and accommodates an open or closed band. I never take the time to hook the band for charging because the soft leather back plate that covers the cable prevents the metal in the sport band from touching any other metal.
While in bed, I can glance over and see the time on the Apple Watch while it sits in the HiRise. This fall a new version of Apple Watch software will add a nightstand mode that works in landscape orientation. While the Twelve South HiRise for Apple Watch is designed to work in portrait mode the magnetic charger is strong enough to hold it in place in landscape if you want to use that optional feature when WatchOS 2 arrives around the iOS 9 release date.
For the first month I owned the Apple Watch I charged it without a stand. While flat on the night stand it didn't get scratched, but it was often under a pair of headphones, a magazine or something else by the morning. Too often I fumbled for the charger that slid off the edge of my night stand. After a month of using the Twelve South HiRise for Apple Watch there is no way I would give up the convenience and style it adds to using the Apple Watch.
You can buy the Twelve South HiRise for Apple Watch direct from Twelve South or from [easyazon_link identifier="B00UIT6PMA" locale="US" tag="gbm-ea-20″]Amazon for $50[/easyazon_link]. The HiRise for Apple Watch is available in black or silver.
Check out some of the best Apple Watch stands you can buy in the slides below.
7 Exciting Apple Watch Stands & Docks
Spigen Apple Watch Stand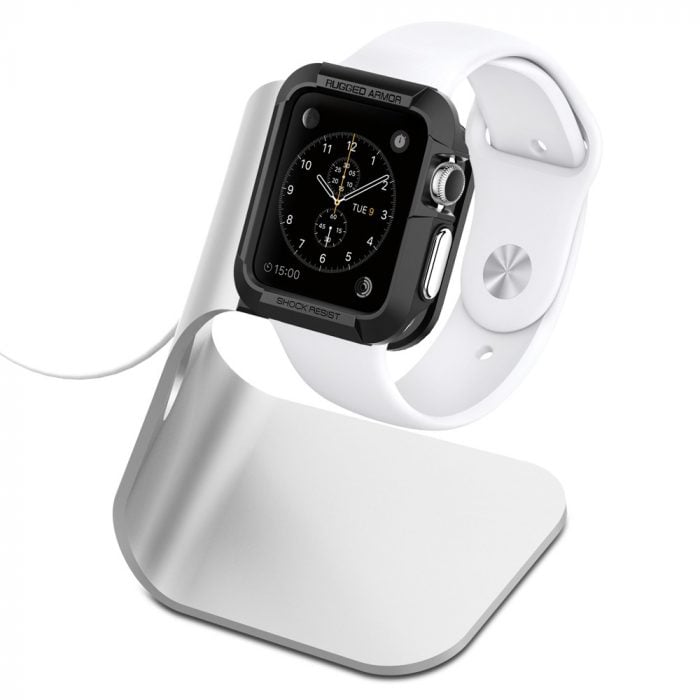 The Spigen Apple Watch Stand is just $20 on Amazon and it offers everything you'll find on the more expensive options. If you want to display and charge your Apple Watch on a beautiful Aluminum stand that doesn't break the bank this is your option.
You need to use your Apple Watch charger and it fits in and the cord trails off to the side. This is available in silver and arrives starting on May 8th.
$19.99 at Amazon

As an Amazon Associate I earn from qualifying purchases.