Twitch is How Google Plans to Make Money on the PS4 and Xbox One
Google is poised to move into video games in a big way and it'll do so on the backs of the two best-selling next generation video game consoles.  That's if news reports about Google buying video game streaming company Twitch are accurate.
News of Google's YouTube video service completely buying out Twitch first surfaced on Sunday in a report from Variety. That initial report pegged Twitch's buying price at $1 billion in cash and indicated that YouTube was preparing for a possible challenge of the purchase by regulators in the United States because of it and Twitch's relative size in the markets they serve.
A spin-off from the Justin.TV website, Twitch is a streaming video power house. Whereas YouTube focuses on users recording and editing video, Twitch gives gamers the tools they need to record and stream video game play session in real-time, circumventing the uploading and editing process. It also allows gamers to communicate with their audience as they play in built-in chat. It may sound basic, but Twitch has revolutionized the way gamers share video footage with each other.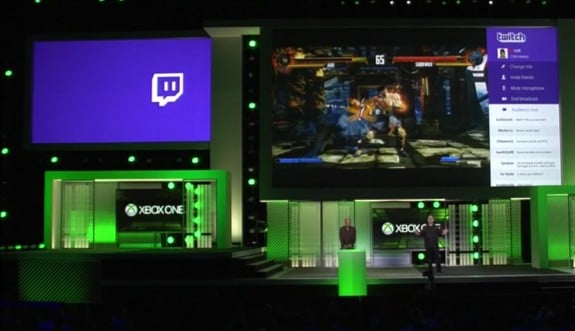 That YouTube would buy Twitch is important for a few different reasons.
First, in the early days of Twitch video game streaming was limited to devices that users could install the Twitch software on. More specifically, users could watch streams of others but not set up their own streams on anything but a Mac or PC. Last year that all changed when both Microsoft and Sony announced that they were adding Twitch to their consoles.
On the Xbox One users are able to start a live stream by simply downloading the Twitch app from the Xbox Store and configuring the app for their account. From then on saying, "Xbox, Broadcast" will automatically open the Twitch app and allow users to setup their stream. The Xbox One version of Twitch snaps to the right side of the screen and allows the player to read messages and stop or pause a stream when it's convenient. The PS4 version of Twitch is activated by simply pushing the Share button on the PS4 controller. Users can watch other's streams from both apps.
Getting a stream started is so easy that Twitch has seen its traffic balloon. According to Twitch, 45 million users watch Twitch user streams a month and Sandvine, a company that specializes in delivering content over the internet, indicated that Twitch was responsible for 1.35% of all downloading traffic in North America. For comparison, that's three times more than what the service was responsible for the year before.
Read: Microsoft Shares More Details About Twitch on Xbox One
All of those users and growth means that Twitch had to find a way to make money and the way it decided to do so will sound familiar to anyone who has uploaded a video to YouTube. Advertisements for products are simply injected into the livestream the moment a user starts watching a stream or a video, just like YouTube. Unlike YouTube, Twitch streamers can control when additional advertisements show up in their stream, so presumably users won't miss any of the action. Like YouTube, a growing list of enterprising users have already managed to create a cult following and turn Twitch streaming into a big source of income. Twitch has already said that it'll make a profit this year.
So how does this relate to Google? Google is a technology and software company, but it makes very little of its money from selling devices and software. Instead, Google's biggest businesses all revolve around building systems and making money from advertisements. Really, Google is part advertising company. Twitch is the defacto standard by which users stream gameplay, the only company that comes close to competing against Twitch is MLG, and it's not built into the Xbox One or PS4. Buying Twitch would effectively give YouTube – and by extension, Google – the reach it needs to make a lot of money on the back of the Xbox One and PS4. Simply put, Google is set to break into the video game business without ever having to launch a video game console of its own.
That isn't to say that the company hasn't tried to break into the living room before. Its recent history is filled with devices that connect to televisions that have so far failed to take off. First there was Google TV, a custom operating system that Logitech and Sony used to build their set-top boxes and smart televisions on top of.
Then there was the Nexus Q. The Nexus Q resembled a giant orb with pulsating lights and required users to have a smartphone or tablet running Google's Android operating system for it to do much of anything. Google announced it then shelved the project just as the first units were set to arrive. Google gave the devices to users for free if they'd managed to already pre-order the $299 smartphone accessory.
Its latest attempt was the Google Chromecast, a $35 stick that users plug into their television's HDMI port. It allows both Android and computers equipped with its Chrome Web Browser to stream media and browse the internet on their television set. Google only sells the device for $35 but since most of the world's websites use AdSense it makes more money by empowering users to browse easily on their television too.
Google has yet to confirm its rumored buyout of Twitch.