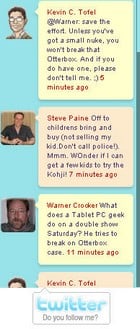 I'm experimenting with Twitter this weekend. If you don't know, Twitter is a social and presence tool that allows you to both announce your on-line presence and keep track of your friends and colleagues. Many folks do a similar thing with various IM clients. Twitter is all the rage at the moment, and like any other tool, you need to update your presence (I'm heading to rehearsal, or Plane just landed) for it to be truly effective. (I've never understood folks who sign into IM clients and permanently leave their status as busy.)
I can also see how this could be addictive and thus not useful in the long run. Of course you can receive updates on any device that has you connected, and you can update from any device as well. There is a Vista Sidebar Gadget called Twadget (what a name choice!) that I can't seem to get working, but for the test this weekend, I'm monitoriing Twitter through GoogleTalk on my Tablet PC this weekend, and on my PPC6700 when I will be out and about. I've noticed that GoogleTalk doesn't pick up every update, so I guess there's some work still to be done there as well. You can choose to have your presence monitored by everyone who Twitters (I think that would be a major distraction), or just a select list of friends. So, if you're a GBMer and on Twitter, you can reach me here. On with the test.

As an Amazon Associate I earn from qualifying purchases.