Ubuntu Coming to Tablets Later This Year
Today Canonical announced that Ubuntu will soon come to tablets with a UI that mixes the smartphone and desktop Ubuntu experiences.
The new Ubuntu for tablets is the same as Ubuntu for smartphones with a UI made for larger devices, but the way users interact with the OS is the same. Like on Ubuntu for smartphones, the tablet version of the Linux distro is all about gestures. Swipes from different bezels will perform different functions in Ubuntu for tablets.
Like Ubuntu for smartphones, swiping from the left bezel on a tablet running Ubuntu will bring up the dock of commonly used icons. From there users can get to recently used apps or back to the home screen to launch a different app.
Swiping from the top of the screen will reveal a menu with system settings and notifications. A swipe from the bottom screen will open options for the running app.
Unique to Ubuntu for tablets is the new "side stage" feature which will run Ubuntu smartphone apps on the right side of the tablet. Users can activate the feature by swiping in from the right bezel. The smartphone app will appear above the current tablet app.
As shown in the video above the side stage feature is great for running apps like Facebook or Twitter while watching a movie. The feature also lets users push a video chat to one side of the tablet so they can do other things at the same time, which seem useful for video chats with co-workers or particularly boring family members. The feature looks similar to snapping apps in Windows 8, though it doesn't appear to re-size the main app.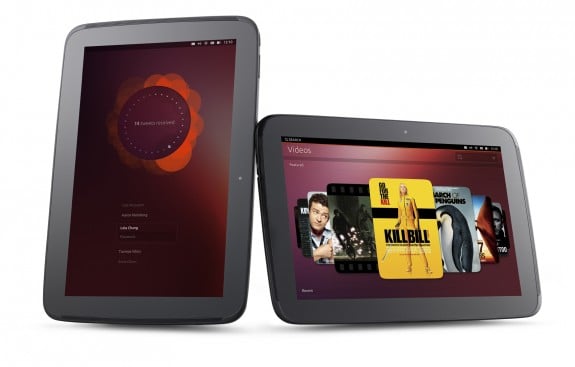 Canonical expects tablets running Ubuntu will come to market sometime in 2013 through its unspecified hardware partners. At first the tablets will run a specialized version of Ubuntu, but Ubuntu 14.04 in 2014 will merge all form factors into a single version of Ubuntu.
While average users will have to wait for Ubuntu tablets, later this week developers will have the chance to install Ubuntu on the Nexus 7 and Nexus 10. This is so developers can find their way around the OS and create apps for the eventual consumer release.

As an Amazon Associate I earn from qualifying purchases.