Ultimate iPhone App for Quick Note Taking
If you're looking for an iPhone app for quick note taking, there are plenty of fish in the sea, but none quite stand out the way Drafts does.
There are a ton of note-taking apps that you can get for your iPhone, including Simplenote, Evernote, OneNote, Notability, Vesper,  etc. The list goes on for miles. However, with most of these apps, they usually don't do a good job with lightning-quick note taking. As in, you usually have to tap a couple of buttons inside of the app before you can actually start jotting down a note.
Drafts is a note-taking app, but it's slightly different than the rest of the crop in the iTunes App Store. Drafts allows you to type in a quick note, but instead of saving it locally in the Drafts app itself, it allows users to save notes to other note-taking or cloud services.
It's a fairly unique app, so we'll be going over some of the big features of Drafts and highlighting some of the coolest things you can do with it.
Ninja-Like Notes
Most of the time when you need to jot down a note on your iPhone, you need to do it quickly. The default Notes app on iPhone actually isn't half bad, but if you use Evernote or another third-party service, they get so bogged down with numerous features that it takes a couple of taps before you can actually start typing down a note.
This is where Drafts come in handy. When you launch the app, you're immediately greeted with a blank slate and the on-screen keyboard where you can get to typing right away. From there, you can send the note to a variety of note-taking and cloud services, such as Evernote, Simplenote, Google Drive and Dropbox. You can even post status updates to Facebook and Google+ from within Drafts.
Drafts will automatically save a copy of the note locally, so you'll always have a record of all the notes that you've jotted down in the app, even after you send it off to another note-taking app, but you can easily delete them if the stockpile gets too out-of-control.
Another cool feature of Drafts is that it gives you a real-time word count and character count, which is really handy to have if you require a word count minimum or want to keep notes below 140 characters for tweets.
Customizing Drafts
The fun doesn't stop there, though. Drafts has a fairly decent menu of settings that you can play around and change. Specifically, you can add and get rid of different actions. "Actions" are the different things you can do with a note after you type it out, like save it to Evernote or post it to Facebook.
Drafts gives you three different tabs that you can customize to your liking. For instance, one tab could be actions for cloud services, while another tab could be for actions meant for posting to social networks.
In the settings is also where you link all of your third-party accounts so that Drafts can save your notes to these services seamlessly. Personally, I only use Drafts to quickly save notes to Evernote, so I simply just open up Drafts, type out a note, hit Save to Evernote and it's all done — takes much less time than using the Evernote app itself.
The Ultimate Shortcut to Other Apps
In the end, Drafts is essentially just another note-taking app if you want to be really technical about it, but it can be much more than that. It's essentially a quicker gateway to other apps, and it allows users to quickly jot down notes and save them to their service of choice much faster than they could in the destination app itself.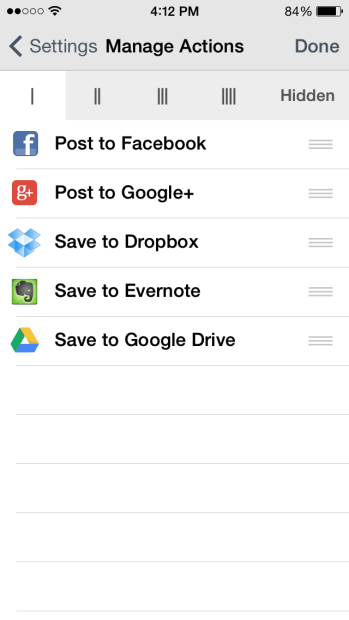 Is it an app that every iPhone user should have? Maybe not, especially since there are still some die-hard analog note takers out there in the world who still prefer the classic pen and paper for taking notes, but if you're on the go and only have your iPhone on you, a note-taking app is the next best thing, and Drafts is one of the best without a doubt.
Plus, there are some users out there who just don't want to mess with yet another app on their device, so if they need to type a note in Evernote, it's best for them to just use the Evernote app. However, if you're looking for a quicker way to type and save notes without a lot of friction and still have the notes saved to your favorite note-taking app, we would recommend Drafts by a long shot.

This article may contain affiliate links. Click here for more details.