Ultra-Mobile PC Accessories are coming out….
–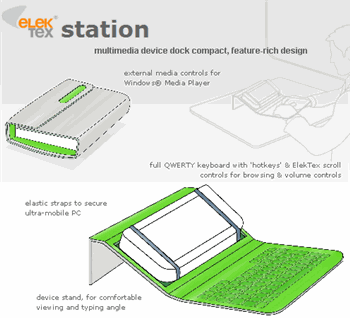 Well, here at GottaBeMobile.com we want to provide you with more than just the standard press regurgitations, so I spent some time this morning looking for what is new for Ultra-Mobile PC devices (uhh, I guess it's all new but you get the point). Not sure how I managed to get there, but I found what for me was one of the first actual references to not an Ultra-Mobile PC device itself, but a pretty cool accessory. Eleksen makes what they call "smart fabric interfaces for consumer electronic". Well the first cool accessory I've seen is actually a concept "fabric" USB keyboard, integrated into a nice case that would hold your Ultra-Mobile PC snugly. I think I am gonna want one of these when they are available, but will have to wait until OEM's decided to contract with Eleksen probably. Of course, I will want to get an actual Ultra-Mobile PC to go with it, but that's another story. Here is what they have to say:
"Easy to integrate into a wide variety of portable accessories, the ElekTex touchpad interfaces through a standard USB connection to most personal devices. It provides a highly innovative interface technology for development of dynamic and feature-rich peripherals and can be used, for example, to enable typing on tablet PC cases, provide portable typing interfaces for leading mobile devices and extend the usability of mobile PCs with media and data entry controls.
The ElekTex touchpad can be developed into standalone devices or built into protective cases and covers for computing devices, and is perfect for ultra-mobile lifestyle PCs and origami project devices that require minimum weight coupled with keyboard interface capability.
Check out Eleksen's gallery of possibilities for Ultra-Mobile PC's here.